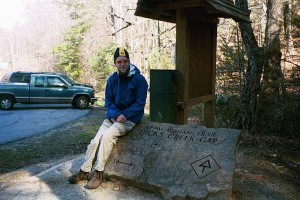 Appalachian Trail Day 9
03-08-01 Day 9
11.6 miles,  AT  –  78.4
Blueberry Patch – Muskrat Creek Shelter
I tried to sleep on the straw beds at the Patch but it was too lumpy.  I moved to an actual mattress.  I slept like a baby.  Breakfast was at 8:30.  Pancakes, sausages, biscuits.  We said grace before hand.
I sent packages back and gave them $20.  I had a Coke for the refrigerator and took one for the road.  I showered and got my laundry down.  Gary and Lennie had one dog and three cats.  The gray cat was thrown from a passing car.  Doctors said she wouldn't make it.  In the morning on the way to the bathhouse, I stopped to talk to her and she ran up my back and sat on my shoulders (I was squatting).  What a great cat, sorry kitties!
Wayne, a two timer hiker, was there and he drove us back to the trail.  He was very knowledgeable.  History buff!  He paid me a very nice compliment.  He said I was a great young man, seemed well rounded, sound of mind and was jealous that he couldn't hike with me, he would like to hike with me.
The hike was very steep once we hit the North Carolina line.  Tomorrow we go over the one mile high elevation.  I hiked 11.6 miles.  My knees were hurting on the first downs but they came around.  I'm staying at Muskrat Creek Shelter.  It's not that cold so it should be a good night.  I'm sitting in front of a fire with my headlamp.  My butt is cold, the log is damp.
I'm staying with Mr. Pat and two guys named Steve and Skip.  They gave us some bourbon.   Going to watch the fire and talk.
———-
Scatman
Get out there!
https://oneofsevenproject.com/wp-content/uploads/2019/01/DX-2-300x200.jpg
200
300
Craig Fowler
http://oneofsevenproject.com/wp-content/uploads/2017/01/1of7-logo-lockup-grey-1132x212-300x56.png
Craig Fowler
2001-03-08 09:08:28
2019-01-24 21:45:22
Appalachian Trail Day 9 - Blueberry Patch - Muskrat Creek Shelter