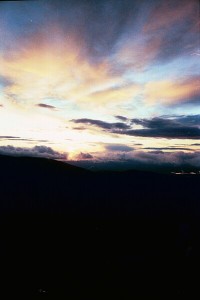 Appalachian Trail Day 140
Day 140, 07-17-01
Poplar – Sugarloaf Summit
10.9 miles, AT  – 1969.7
Day of Rain 34
I slept well but was up early because of the tight quarters in the shelter.  Since I was only doing 10 miles, I took my time.  I got 10 minutes down the trail and had to answer natures call.  When I realized I left my camera and food at the shelter, I did my business and ran back to the shelter.  Trail running is fun.  I hung out more at the shelter and then took off.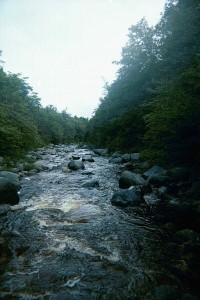 I passed the group of boys that stayed at the shelter, then Pinky and then the rain started.  I caught Clyde at the Orbeton Stream.  After that, the rain rally started to come down.  It was so bad, I had to put my visor hat on.  The rain was cold and I was soaked to the bone.  It really made me wish I was home dry and warm.  It was one of the worse days of walking in the rain yet.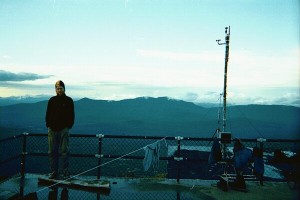 I passed Relax and Setback on Lone Mtn.  They are two girls from Mississippi.  Nice people but they both are suffering from aliments.  I caught Rikki, another new face from last night, right as we got to the Spaulding Shelter.  I ate lunch as I froze to death form being so cold.  I couldn't open my Powerbar, my hands were so cold!  As I left, Relax asked if I was okay.  I guess I didn't look good.  My teeth were chattering so bad.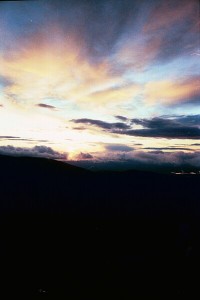 I finally got to the top of Sugarloaf after climbing up a .5 mile river of water.  The building at the top was huge by hikers standards.  I hung out most of the day since I was there so early.  There was quite a crowd come bedtime.  I told the Scatman story to my biggest audience yet.  They loved it!
Scatman 2011- This was the closest I've ever come to hypothermia in my life.  To give you an idea of the amount of rain we're talking about picture this:  When I crossed Oberton Stream I was able to hoop from rock to rock without getting wet.  An hour later when a couple of the kids crossed use the same rocks but the water was half way between their ankles and knees.  Another hour later when the rest of the kids crossed, they said it was over their knees. It was dumping buckets.  The water came down so hard it hurt when it hit you.

At lunch I was miserable.  I only left for the summit of Sugarloaf so I could get warm.  It would take me over half the ascent and many miles before I felt somewhat comfortable.  I was in a bad place.  So bad I skipped a 150′ side trail to a peak which I later realized was part of the 100 Highest Peak in NE, which I was trying to hike.  I now have to climb out there again some day to hike that 150′ side trail.
———-
Scatman
Get out there!
https://oneofsevenproject.com/wp-content/uploads/2019/01/DX-12_2-200x300.jpg
300
200
Craig Fowler
http://oneofsevenproject.com/wp-content/uploads/2017/01/1of7-logo-lockup-grey-1132x212-300x56.png
Craig Fowler
2001-07-17 09:00:18
2019-11-29 22:10:39
Appalachian Trail Day 140 - Poplar - Sugarloaf Summit