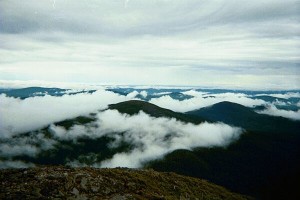 Appalachian Trail Day 141
Day 141, 07-18-01
Sugarloaf – Stratton, ME
10.6 miles, AT  –  1980.3
I was up early and I headed out soon after I ate.  Only myself and Speedy were suppose to go to town.  I hit two more 4,000 foot peaks on the way in. I got a ride from two young guys in a pickup.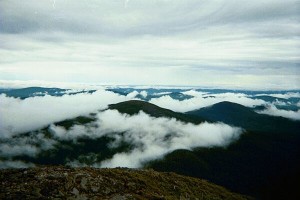 As I came out of the PO, Speedy showed up.  He'd just missed the postmaster so we went down the street for lunch.  I had a pizza and he had a pint of chocolate milk, a sub, baby carrots and an apple.  We did our shopping and checked e-mail.  Speedy needed more food, so we headed back to the market.  Once there, we saw Arlo's pack but couldn't find him.  I did find Relax, Setback, Clyde, Troy, Carmen and Rikki.  Alro was in the bathroom so thats way I missed him in the market.  I told everyone I was leaving and they tried getting me to stay.  Arlo, Speedy and I went to the library.  Along the way, we saw Captain at the PO.  Speedy decided to go to Farmington with Captain.  Then Arlo did too!  I meet Jeff (Trailwind) at the PO and decided to split a room with him.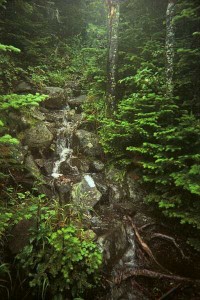 The new kids back at the hotel said they knew I wasn't leaving town.  We all had dinner together.  I hung out with Relax, Setback, Clyde and two SoBo on the deck till around11:30 PM.  After that I watched TV with Jeff till 1 PM.
Scatman 2011-Yet another crazy day where no one could make up their mind.  We definitely were in no rush these days.  The only motivation to hike fast was in hopes of getting a space in the shelter.  Soon even this wouldn't be an issue as we would get ahead of the crowd we were with and we would also move into less popular hiking areas.

I don't recall where Crash and Burn went on this day, probably Farmington with the guys.  We made plans before they left as to where we would stay the next night and would be a tribe once again.  The attitude was so laid back, though at the time I was a bit up tight about the kids always traveling away from the trail.  At times I didn't either want to deal with the logistics or didn't feel as if I was invited, which was crazy since we had been together since Mass.
———-
Scatman
Get out there!
https://oneofsevenproject.com/wp-content/uploads/2019/01/DX-15_2-300x200.jpg
200
300
Craig Fowler
http://oneofsevenproject.com/wp-content/uploads/2017/01/1of7-logo-lockup-grey-1132x212-300x56.png
Craig Fowler
2001-07-18 09:00:16
2019-11-29 22:10:39
Appalachian Trail Day 141 - Sugarloaf - Stratton, ME