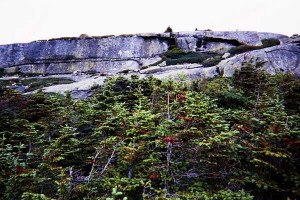 Appalachian Trail Day 139
Day 139, 07-16-01
Rangeley – Poplar Ridge Lean-to
10.7 miles, AT  – 1958.8
Day of Rain 33
I woke up to a noisy room.  Burn was all fired up and talking very loud.  I had real milk and Frosted Flakes.  Oh, we had OJ and donuts too.  Getting out of town was another project.  Knatty's friends drove us out to the trailhead.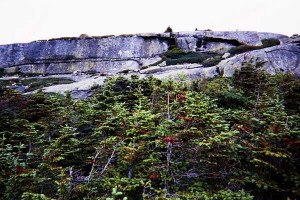 I passed a lot of people on the way out of the woods.  Again it rained on me.  I was able to get some views on Saddleback before the clouds moved in.  The hiking was great.  I was above tree line and the plant life was amazing.  Being above tree line is like another world.  I walked above tree line for a while then it was down to camp.  There is over 30 people at the shelter.  I luckily got into the shelter.
Speedy, Crash and Burn are not here.  I think they stayed at the next shelter back.  We have a mouse running around.  Let's hope he doesn't get into anyones food.
Scatman 2011-This whole section of the trail is confusing me 10 years later.  So many names to remember.  I feel like a need a data book to look at so I can keep it all straight.  A data book contains distances, water and shelter locations and more.  It doesn't help I have little to know pictures since I broke my camera.  I do get my dads cameral at some point but the lack of photos to prod my mind makes it tough.  I keep getting ahead of where we're really at in the journal in my head.  Hopefully you're all enjoying it all the same.
———-
Scatman
Get out there!
https://oneofsevenproject.com/wp-content/uploads/2019/01/DX-22A-300x200.jpg
200
300
Craig Fowler
http://oneofsevenproject.com/wp-content/uploads/2017/01/1of7-logo-lockup-grey-1132x212-300x56.png
Craig Fowler
2001-07-16 09:00:41
2019-11-29 22:10:39
Appalachian Trail Day 139- Rangeley - Poplar Ridge Lean-to