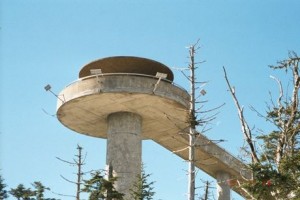 Appalachian Trail Day 19
03-18-07 Day 19, 8:30 AM ® 3:50 PM
13.8 miles, AT  –  206.8
Double Spring Gap  –  Icewater Spring Shelter – 5,920 feet
Cloudy and cold to start, warmed up to 60 +/- and cleared up.
Today saw the highest peak on the trail and as my luck would have it the film jammed in the camera.  Laura and George saved me by giving me their extra roll of film.  The views were spectacular!  Really cold up on the observation deck.  The hike itself was fairly easy.  I saw a lot of day/weekend hikers
Newfound Gap was tourist central.  The first thing I saw was a big old tour bus old folks getting off with their cameras.  As the data book says, someone will point out "that it's all downhill from".  I had two people say it to me.  A few people approached me at Newfound Gap and asked about my hike.  For the most part people are very friendly down here.
Too cold in the shade of the shelter.  I had to move to where a jumbo helicopter landed some pressure treated wood.  They were flying all day, dropping wood off at different places.  There's a pink flagging ribbon in an X right where I sit.  A bullseye for sure!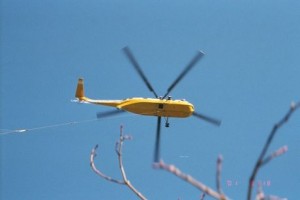 I forgot to mentioned that I have fallen twice (before and after Wesser.)
The sun was very warm today.  I put lotion on but I think I still got a little burn.  There was a lot of snow on the ground plus tons of ice.
Last nights fire was sweet.  Hopefully, the Ohio boys will start another one up tonight.
My chaffing wasn't bad today.  My heel on the left foot is starting to worry me.
Scatamn 2011- I mention some chaffing above but it sounds like it's old news by the way I say it.  I don't recall when it started but by this point it was getting bad.  The REI convertible pants I got were chaffing the inside of my thighs.  I had big red and raw patches on both legs.  Every step was painful after the first 20 minutes of hiking.

The hiking was as I mentioned very cold and one didn't stand around idly for long.  The problem for most of us hikers was we still weren't that strong where we could hike all day.  We stopped early each day and the cold would air would chill us to the bone.
———-
Scatman
Get out there!
https://oneofsevenproject.com/wp-content/uploads/2019/01/8-06-300x200.jpg
200
300
Craig Fowler
http://oneofsevenproject.com/wp-content/uploads/2017/01/1of7-logo-lockup-grey-1132x212-300x56.png
Craig Fowler
2001-03-18 09:00:05
2019-01-24 21:30:52
Appalachian Trail Day 19 - Double Spring Gap - Icewater Spring Shelter