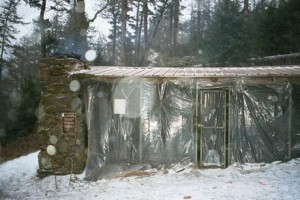 Appalachian Trail Day 20
03-19-01 – Day 20 8:25 AM  –  2:25 PM
12.6 miles, AT  –  219.4
Icewater Spring  –  Tri-corner Knob Shelter (5,920 feet)
Cold in the AM – warmer in the PM
Today's hiking was spectacular.  I took a detour southbound to check out "the jump off".  It's a side trail to a cliff.  I wasn't too taken by it but the view was nice.  There were lots of views today.  There were a lot of P.U.D.S. (points up and downs) too.
The little blister on my toe came back.  I ran out of duck tape and was too lazy to cut the moleskin.  I'm not worried about it.
The amazing thing today was how the left side (TN) was completely covered in snow at times and the right side (NC) was dry.  You walked along a 3 to 5 foot ridge and see down both sides.  It's pretty cool.  A lot of ridge line today.  I would have to say that I have enjoyed the last two days the most.  The woods up here at 5,000 feet remind me of the wood in Maine, NH or VT.  Evergreens and scrub grass and moss.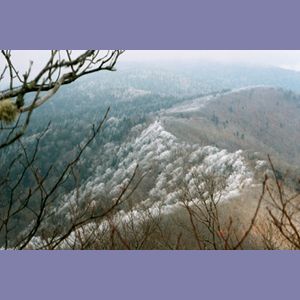 My chaffing is really bad.  I looked at it this afternoon and it doesn't look good.  I'm going to buy some brief/boxers.  Hopefully they won't ride up and it may stop the chaffing.
Today some of the trail was above 6,000 feet.  I enjoyed it a lot but was a little lonely.  I only saw two other people besides the Ohio boys who I stayed with last night.  There is a group of thru-hikers one day ahead of me.
Tomorrow I hope to meet Aunt Ruth.  I'm looking forward to a shower, laundry and a fat pizza.  I can't wait.
Scatman 2011- The scenery of the Smokies on this day is with me today.  Though the woods were void of leaves or bright colors the stark beauty of the area moved me.  I can picture the scene I describe in the journal about the left side (TN) being covered in snow and frost, while the right side of ever ridge (NC) was dry and lacked any snow.
———-
Scatman
Get out there!
https://oneofsevenproject.com/wp-content/uploads/2019/01/8-15-300x200.jpg
200
300
Craig Fowler
http://oneofsevenproject.com/wp-content/uploads/2017/01/1of7-logo-lockup-grey-1132x212-300x56.png
Craig Fowler
2001-03-19 09:00:06
2019-01-24 21:29:05
Appalachian Trail Day 20 - Icewater Spring - Tri-corner Knob Shelter