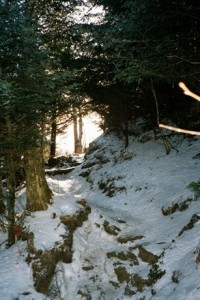 Appalachian Trail Day 21
03-20-01 Day 21, 7:30 AM 1:20 PM
15.7 miles, AT  –  235.1
Tri-corner –  Davenport Gap
Day 6 of rain
Snow, wind (strong), rain and sleet.
Last night we had a noisy bunch at the shelter.
I was the only thru-hiker.  The Ohio boys were there (Dave & Chris).  I finally asked their names.  We had a nice fire but I went to bed so I didnt get to warm myself much.  The night started not too cold but by morning it was snowy and windy.  I left my boots next to the cage fence and they got snow in them!
I was the first to leave the shelter and brave the cold.  The hike was cold and windy.  Trees were swaying 2-3 feet at the high peaks.  My hands kept going numb so I would alter putting my hands in my coat pocket to warm them.  My beard was full of ice too.
I stopped at Cosby Shelter to find two people still there.  One thru-hiker and one weekender.  A message to all non thru-hikers leave your jeans and other cotton at home!  People are mindless.  I only stayed at Cosby long enough to eat and get warm.  I only managed to get cold sitting there.
There was a lot of down today and my left knee was feeling it again.  I was also moving fast too, to get out of the rain and snow.
I saw a mouse, spider and wild turkey and rough grouse tracks.
When I got to Davenport Gap, I looked at my book and it said or I though it said Ranger Station, phone, bathroom 1.5 miles left.  I was wrong.  Luckily I got a ride from some very lost people.  I finally got to a store where I got warm, had a Coke and some cookies and tried to reach my Aunt Ruth.  Her cell phone wasnt working.  So I had to sit at the window and wait for here to go by since she was picking me up at the Gap not the store.  I even had my Dad call her too,  No luck.
As luck would have it, a semi-trailer truck delivering beer blocked the front of the store and I hesitated at seeing a dark red car (the description given to me by my Aunt) and before I got outside she was past the store and missed me.  I thought it  over and said Hell Ill walk back towards the Gap.
Little did I know, it was 9 miles back.  After two I sat on an old tire until I got cold and then I started to pace.  I figured she had to come back my way sometime.  At 5:30 PM she did.  Cold and wet I got in the car only to find out that I had left my money, license, credit card, and bankcard all at the store.
We stopped at the store and I thanked them for holding my stuff and for letting me stay inside.  I also got the real scoop on the lady who got killed by the bear last year.
The ride to my Aunts house was closer to two hours but I finally got my pizza!!!  I showered, checked e-mail, and did laundry.  Tomorrow will be a zero day and I will see Survivor again and hit the trail on Thursday.
Scatman 2011- This day was "EPIC".  Between the the howling winds, side ways snow, trees blowing over, the rain, reading my maps wrong, more rain, forgetting my wallet, I was spent.  It was odd to be in a car moving at such a high rate of speed.  I remember sitting in the back calculating how long it would take to walk the same distance.  On this day I went from waking up in a blizzard, in a shelter in the middle of the Smokies to the warmth of a bed, in  a house in a descent size city in TN.  Crazy.
———-
Scatman
Get out there!
https://oneofsevenproject.com/wp-content/uploads/2019/01/8-11-200x300.jpg
300
200
Craig Fowler
http://oneofsevenproject.com/wp-content/uploads/2017/01/1of7-logo-lockup-grey-1132x212-300x56.png
Craig Fowler
2001-03-20 09:00:19
2019-01-24 21:26:17
Appalachian Trail Day 21 - Tri Corner Knob - Davenport Gap