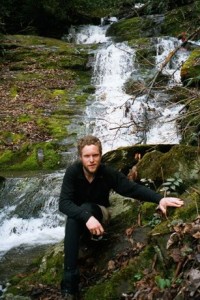 Appalachian Trail Day 23
03-22-01  Day 23
9.6 miles, AT  –  244.7
Davenport Gap  –  Groundhog Shelter
60° – Sunny
Today I got up had some Frosted Flakes and toast.  I showered, packed and left for the trail.   The ride was shorter with the different way we went.  I fell asleep too.  I got to the trail 9:35AM and started around 9:45.  No snow for the first two miles then it got deeper and wetter as we went up.
I met Mr. Pat along the way.  We are here tonight with two older ladies section hikers.  The push to Hot Springs is going to be a tough one.  The snow makes it very tough to walk.  You slide all over and the downhills are worse.
The person in front of me who broke trail must be about 5 feet tall.  They have the smallest stride I've seen.  This has proven to be a major pain in my ass.  I was getting real surly today.  Short people should grow up!
Tomorrow I will get up early to beat the sun and soft snow.  I have to do 13.2 and the 13.1 to get to Hot Springs by 12 noon on Saturday to make the post office.   Wish me luck.
Scatman 2011- Turns out that "short" person was actually over 6′ tall.  I was cursing said person to the outfitter and said person was right there using the free internet the outfitter offered hikers.  I wouldn't learn this until Maine when Mortis the person in question told me when he first met me I was everything he hated about Bostonians.  Mine you Mortis is from Boston himself.  He went on to say he came around and learned to enjoy my company.

Since the trail we have seen each other a few times and even drove to Springer Mountain, GA together.  We both did different trips in the area and carpooled.  This was one of many lessons I learn on the trail.  Don't Judge.  I can't say I never do it any more but I'm more aware of it now.
———-
Scatman
Get out there!
https://oneofsevenproject.com/wp-content/uploads/2019/01/8-23-200x300.jpg
300
200
Craig Fowler
http://oneofsevenproject.com/wp-content/uploads/2017/01/1of7-logo-lockup-grey-1132x212-300x56.png
Craig Fowler
2001-03-22 09:00:13
2019-01-24 21:23:40
Appalachian Trail Day 23 - Davenport Gap - Groundhog Shelter