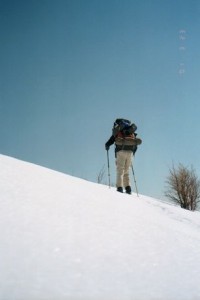 Appalachian Trail Day 24
03-23-01 Day 24  7:00 AM to 1:20 PM
11.3 miles, AT  –  256.0
Groundhog  –  Roaring Fork Shelter
Sunny 60°, Crusty snow in AM, mush in PM
Got up early to beat the mushy snow and I think the frozen stuff was worse.  Im still following the small stride person(s).  If I over stepped the tracks, my toe didn't have the weight to break the snow by my heel did.
I met a couple with a Malamute (dog).  Mia was her name.  She jumped right up on me and almost knocked me down.
Max Patch was total cool.  I felt as if I was traversing a glacier.  The views were great too.  I could see in all directions.  The snow got soft after Max Patch.
Im staying at Roaring Fork tonight instead of Walnut Creek because Walnut Creek is very old and old shelters are not very good.  Theres no way Im making Hot Springs by 12 noon on Saturday.  I will hold up at Deer Point Mountain Shelter 3 miles outside Hot Springs, then spend Sunday in Town.
I heard the outfitter has the fake jerky I like!!!  Expensive, but worth every penny.
The new shorts are working out great.  They are SOOOOOOOOO worth the money
On the mental side of things, Im well.  I enjoy my time in the woods alone.  Im sure my first night alone in a shelter will suck but Ill worry when it happens.  Things are good and I feel well.  I get tired after lunch but I still just need to eat more.  I just cant stand this snow.  Ill be so happy to be out of it.
Tonight with Mr. Pat, Godet and Slack.
Scatman 2011- Above I say my first night alone in a shelter will suck.  At this point I'm in NC at mile 256.  My first night alone on the trail was in MA, at mile 1464.4 and day 104.  That's 80 days from when I thought about it.  All in all I would only spend 3 nights alone on the whole trip.  All 3 were in Massachusetts.  The AT is so different from the PCT.  I spent 30 nights alone on my PCT hike.  That's 24% of my whole hike.
———-
Scatman
Get out there!
https://oneofsevenproject.com/wp-content/uploads/2019/01/7-05-200x300.jpg
300
200
Craig Fowler
http://oneofsevenproject.com/wp-content/uploads/2017/01/1of7-logo-lockup-grey-1132x212-300x56.png
Craig Fowler
2001-03-23 09:00:41
2019-01-24 21:21:57
Appalachian Trail Day 24 - Groundhog - Roaring Fork Shelter