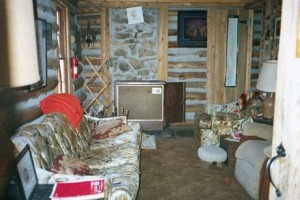 Appalachian Trail Day 35
04-03-01, Day 35
20.1 miles, AT  –  404.5  2,500 feet
Apple House – Kincorra Hikers Hostel
Day 8-9 Rain in AM, cloudy the rest
Another tough ass day.  Whoever made this map section was on drugs.  The terrain was nothing like the map.  Lots of P.U.D.S.  Plus my raincoat was ripe!  I washed it today here at Kincorra Hiker Hostel.  Today was my second 20 miler.  My feet are hurting from the miles.  About half way through each day, my feet start to burn.  The one good thing was there was no snow today.  Just lots of wet.  No views to speak of today, maybe one or two.  We did go through this incredible valley.  It was totally cool.  Wide open, green with our little own path through it.  It had rock piles and tress scattered through it.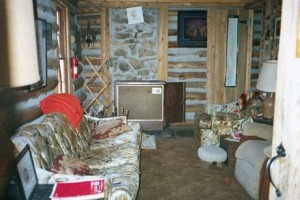 Last night we stayed with Al, Nevermind.  I told you already.  Last night was a good sleep.  No mice running in my hair, just in the walls.
Tonight were in Dennis Cove at this hostel.  Bob brought us in to town where we shopped.  I got Swiss rolls, frozen pizza, Poptarts, Snickers, chips and salsa.  A banana, too.  Tomorrow we might have pancakes.  Tomorrow might be an easy ten miles, then back here again and the Bob will drop us off where ever we stopped on Wednesday night.  We've got ice cream in the freezer, too!
Scatman 2011- I love how I list a whole bunch of junk food and then say "a banana, too" like it makes up for all the junk.  I don't recall this day much or the trip into town.  Bob was a gracious host and turns out he's from the Boston area.   This was an enjoyable stay and a much needed night inside with a warm bed.
———-
Scatman
Get out there!
https://oneofsevenproject.com/wp-content/uploads/2019/01/10-08-300x200.jpg
200
300
Craig Fowler
http://oneofsevenproject.com/wp-content/uploads/2017/01/1of7-logo-lockup-grey-1132x212-300x56.png
Craig Fowler
2001-04-03 09:00:04
2019-01-24 17:29:48
Appalachian Trail Day 35 - Apple House Shelter - Kincorra Hiker's Hostel