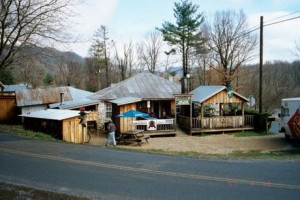 Appalachian Trail Day 31
03-30-01, Day 31
6.3 miles, AT  –  340.7
No Business – Uncle Johnnys Hostel
Rainy AM Sun afternoon Rain evening.
1,700 feet
Day 31
Random Entry
I'm at the laundry mat now.  I had Pizza Hut for lunch.  Agatha and I made Uncle Johnnys by 10:30 or so.  We've done lunch, laundry, post office and food shopping.  Next its back to the post office and then to the library and outfitter before going back to Johnnys.
Tonight we might go to the movies and see The Mexican.
---
Today was an easy day.  Last night we had a mouse (mice) running all over us.  I didn't sleep well at all.  The mouse or mice chewed a hole in a brand new trash bag of mine and one of Agathas.
By the time we got back from town the first time, we just had time for a quick shower before we left again to go to the Erwin Burrito Co.  Great food!  We saw Not Yet and Numb there.  Miss Janet gave us a ride back.  She was great too.  I've watched Happy Gilmore and the Simpsons tonight.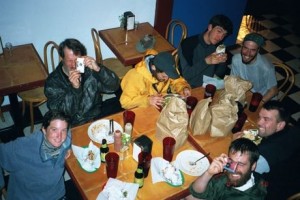 It's rainy now.  Agatha and I haven't decided on tomorrow yet.  It's late so off to bed for me.
Scatman 2011- Time in town was also exciting after being in the woods.  Not like on the PCT.  Shelters and towns had a party atmosphere to them on the AT.  On the PCT you don't have groups of hikers camping together except for in areas where they're force to camp in designated areas.  This made the PCT very different but in a good way.
———-
Scatman
Get out there!
https://oneofsevenproject.com/wp-content/uploads/2019/01/9-12-300x200.jpg
200
300
Craig Fowler
http://oneofsevenproject.com/wp-content/uploads/2017/01/1of7-logo-lockup-grey-1132x212-300x56.png
Craig Fowler
2001-03-30 09:00:36
2019-01-24 17:44:18
Appalachian Trail Day 31 - No Business Knob - Erwin, TN