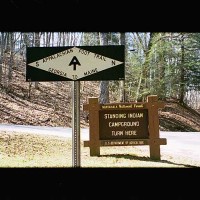 Appalachian Trail Day 8
03-07-01  -Day 8  6:15 PM  Wed.
6.4 miles, AT  – 67.9
Addis Gap – Blueberry Patch Hostel
Cold 20º in the AM, warmed up by 12 PM.
Last night we tented.  It was a good sleep.  Warmer than the last two.  Around 7:00 PM we heard a Barred Owl.  I jumped out of my tent and sought him out.  Silver Raven and Photo Magic thought I was nuts.  I called and the owl called back.  I finally saw him when he took flight.  We exchanged calls one more time.  We heard him again in the AM.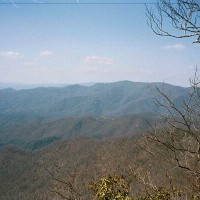 The day started with a big hike up Kelly Knob.  After that we descended and then went up one more climb before a super long down to Dicks Deep Gap.  Along the way we had two great views (no pictures, no film).
Here's a story from Lash a SOBO.  He started Sept. 1, 2000 and didn't see anyone for five weeks.   He was about to quit when he caught up with Black Forest German.
After finding Black Forest he told himself  "This is it.  I found someone, I'm not letting go".
Black Forest told him he was going to night hike.  Lash went along.  During the hike, Black Forest turns to Lash and asks in his German voice:  "what would you do it you found a warm dead body on the trail?"  Lash responded with something (not sure) and Black Forest says, "wrong answer!  If we split up we have a 50/50 chance of surviving.  The body is still warm so the killer is probably close by."
Now tell me what would you do if you were Lash?
Silver Raven and Photon Magic are working on my trail name.  They plan on leaving me notes in the registers so that I might catch up.
Today I saw a song sparrow (?  Spot on chest), cardinal, hairy/downy and Pileated woodpeckers, robins, and nuthatches.
Right now I'm at the Blue Berry Patch.  I had to walk 2/3's of the 3.5 miles along the road before I got a hitch.  Once here I settled in and I hitched into town.  This guy had no floor just trash on it.  In town I hit the post office, forget stops for postcards and I forgot the stuff I wanted to ship back.  I'll learn.  I went to the pharmacy and IGA
Then I hit Subway and got a foot long grilled chicken sub, chips and a Coke.  I thought about Dairy Queen but just went to the outfitter.  Some nice couple from Florida pulled over and gave me a ride to the outfitter.  I bought fuel and talked to the guy there for a bit.  About ¾ of a mile down the road a nice guy (outdoors type) drove me back to the Patch.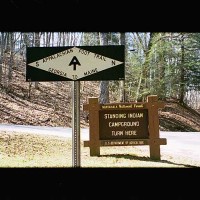 Once there, I realized even more I forgot to send back, had my clothes washed, showered, attempted to call four people without luck and ate.
I'm staying tonight with Dust/"Waterboy".  It's a nice place.  Can't wait for breakfast, I've heard so much about it.
———-
Scatman
Get out there!
https://oneofsevenproject.com/wp-content/uploads/2019/01/DX-211-200x200.jpg
200
200
Craig Fowler
http://oneofsevenproject.com/wp-content/uploads/2017/01/1of7-logo-lockup-grey-1132x212-300x56.png
Craig Fowler
2001-03-07 09:01:14
2019-01-24 21:47:30
Appalachian Trail Day 8 - Addis Gap - Blueberry Patch