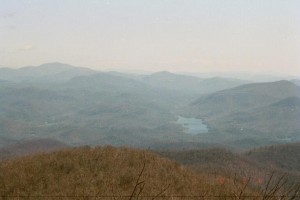 Appalachian Trail Day 7
03-06-01 Day 6  4:40 PM
13.0 miles, AT  – 61.5
Blue Mtn. Shelter – Addis Gap
Last night was cold as shit!  We did have the fire but by 2-3AM it was below 20 and the wind was blowing hard.  The air has so much moisture, it was snowing.
It was Josh, Trisha, Jesse (Silver Raven), Bris (Photon Magic) and three other guys.  Two tented.  Of course the one with us snored.
I got on the trail at 7:45 AM.  It was so sold I put my poles under my arm and put my hands in my pockets.  The plan was to go to Tray Mounting Shelter.  The wind there was as bad as at Blue Mountain.  I caught Silver Raven and Photon Magic at Unicoi Gap.  They had scoffed the last two Cokes a Trail Angel left.
We hiked over Rocky Mountain (4,017 feet), Tray Mountain (4,430 feet) which I had only one picture left.  The views were incredible.  We set up camp at Addis Gap (3,304 feet).  The water was .5 miles downhill.
I will hike 5+/- miles to Dicks Creek Gap and try to hike to the Blueberry Patch.  It will rest my feet, read my book, re-supply in Hiawassee, and try to hit the library to see the pictures from the party.
We are tenting it tonight, my first time.  Had to learn how to bear bag too.  Took a few times to get the rock over the branch.  The temperature was so low, I had my water in the tent with me.
So far the trip has been good.  I was a little down on Sunday after the 14.7 day.  Today was 13.0 but I had more time to rest.  If all I have for pain is sore feet for the heavy pack and shoulder pain, I should be okay since the pack weight should go down when it gets warmer.
—–
Scatman
Get out there!
https://oneofsevenproject.com/wp-content/uploads/2019/01/049-300x200.jpg
200
300
Craig Fowler
http://oneofsevenproject.com/wp-content/uploads/2017/01/1of7-logo-lockup-grey-1132x212-300x56.png
Craig Fowler
2001-03-06 08:56:26
2019-01-24 21:55:03
Appalachian Trail Day 7 - Blue Mtn. - Addis Gap