Even the most cautious, fit, and well prepared riders can fall victim to injuries from time to time. It's not a matter of if but when. Knowing what the most common bikepacking injuries are, and how they occur, is an important step in one's attempt at trying to preventing them from happening in the first place. With the right preparation and solid planning one can help eliminate most of the items from the list below.
Of course there are other possible injuries that can occur to one while bikepacking, but these are the most common bikepacking injuries one might sustain. Take a page from the Boyscouts and be prepared. You'll be better off for it and you're ride will be safer.
Do you find this page valuable?
Shopping with our affiliates helps fund the development of content like this.
Saddle sores are definitely in the top three of the most common bikepacking injuries, if not in cycling. Almost everyone has had them at one time or another and knows just how uncomfortable and painful they can be. Many a rider have quit due to these little but painful sores. Luckily, there are many ways one can help eliminate saddle sores.
Like most injuries what you do before your ride plays a big part in whether you'll get saddle sores or not.
SADDLES:
Find the right saddle for your body type.
Don't settle. If possibly, find a dealer who has a saddle demo program and try as many as you can.
CHAMOIS:
Not all chamois are made equally. Here is where the saying "You get what you pay for!" is applied. A good chamois will do wonders when it comes to helping eliminating saddle sores.
For for some people, not using a chamois can be the trick.
TOUGHEN UP:
Don't start a long ride or tour without building up to it. Slowly increasing your mileage doesn't only help your legs get stronger but it also helps toughen your butt.
Do multiple back to back days on the bike to simulate a long tour or race.
CLEANLINESS:
Keeping your chamois clean is key to avoiding chafe, rash, and saddle sores. On long tours or bikepacking races this isn't always possible.
One thing you can do is air out your bottom as much as possible. Dampness is to be avoided just like with blisters on your feet.
Wash or at least rinse your chamois whenever you can.
When you stop to go #2, consider using wet wipes instead of TP and before you wipe yourself, wipe your butt cheeks to remove any dirt, sweat and salt. These three are major factors in the formation of saddle sores.
OTHER:
Whatever your system at home is, it should be the same that you use during your tour or race. Avoid changing things up during your trip.
Like with blisters, if you think you feel a hot spot starting to form, treat it right away. Don't wait for it to become a problem. The sooner you act the better (cleaning the area/chamois, airing out, and/or applying more chamois cream).
The first thing any doctor will tell you, is to take a few days off the bike giving the affected area time to heal without further friction. Another option is to ride a different bike with a different saddle.
A few days off is usually enough but one can also take a cool bath with Epsom Salts. Airing out the affected area by wearing loose clothing will also aid in the healing process. Lastly, if the saddle sore is bad enough that the skin is broken, apply a topical ointment or warm compress to the affect area.
If you're in a race, your options are limited, as you don't have the luxury of taking time off the bike. This is where avoiding saddle sores is key. If you did your best to avoid them and still get one, you can limit the amount of friction with ointments, chamois cream, keep the area clean of sweat and salt, and air it out as much as possible. Lastly, grit those teeth and keep turning those pedals.
When most people think of chafing the automatically think about saddle sores. The reality is chafing can happen anywhere and to anyone (thighs, nipples, underarms, or any place straps or clothing rubs the skin, to name a few). Chafing can be avoided and if it does occur, can be treated easily. The main goal is to decrease the amount of friction to the skin.
KEEP DRY:
Talcum powder can help keep areas dry that are issues. Powders can wick moisture away from the skin.
Try not to stay in wet or damp clothes if you can.
LUBRICATE:
Try things like petroleum jelly or products like Body Glide. Apply to problem areas to reduce friction.
Tape or patches can be use on nipples or other body parts where lubricates might ware off.
PROPER CLOTHING:
Wear proper fitting clothes.
Never exercise in cotton.
Synthetic fibers that wick are best.
Avoid clothes that don't have flat seams.
In everyday life chafe is easily treated, but when on a long tour or race it can be harder. The first this you want to do is gently clean the area with water, and then dry thoroughly. Once dry you can apply petroleum jelly.
The next step is where it gets hard. Normally one would avoid physical activity, especially the activity that caused the chafing in the first place. As that is not possible for those touring or in a race, the best thing you can is try and reduce any further friction to the area and keep it lubricated. Just be sure to keep it clean and let it dry out when you take a long break or stop for the night.
Numbness of the hands and feet are very common condition cyclists experience and one of the most common bikepacking injuries on long tours or races. The day after day on the bike with little to no time off doesn't give the body a chance to rest and recover, and the results can be severe.
Most numbness injuries are caused by improper fit on one's bicycle. But even with a good fit, numbness can still be an issue if you push yourself far enough. Keep reading to see how to avoid and treat numbness on the bike.
FIT:
A proper fitting bicycle is the first and most important thing one can do to avoid numbness while on the bike.
Hand numbness is usually cause by pinched nerves in the wrist. Make sure your wrists are positioned naturally to avoid pinching.
Groin numbness is most likely the result of improper seat adjustment (tilt) which causes pinching of the nerves.
Numbness of the feet results from improper fitting shoes. Make sure your shoes fit properly, not just in length but their width and arch as well.
BODY:
Some numbness can't be eliminated by bike fit alone. Previous injuries and/or an upper spine that isn't in adjustment, can affect the shoulders, arm, and hands. Lower spine issues can affect the lower half of the body. Work with a chiropractor or others to fix these types of conditions before you get on the bike.
OTHER:
Adding extra padding to one's handle bars can help.
Carbon Fiber bars absorb more vibration than aluminum.
Gel or custom insoles.
Padded gloves.
Treatment of numbness is like chafing and saddle sores, in that you want to treat the causes before you even get on the bike. If you do experience numbness while on the bike there  are a few things you can do to help alleviate it.
The first thing you can do is change your position on the bike. Make a habit of not staying in one position for too long. Switch things up throughout the day. Moving your hands around your handle bars, or stand out of the saddle.
One can also relieve pressure by stopping once in a while. Remove your shoes to give your feet a chance to relax and dry out. Massage them or hands during breaks to stimulate blood flow. If you can't stop, simply loosen your shoes while on the bike.
Massage hands with the end of a bar end or handlebar. Stretch your arms, shoulders, legs or other areas that maybe be showing signs of numbness.
As an affiliate partner, One of Seven Project earns a commission for purchases made through any product, brand logo links, or banner ads on this page. Thanks for your support!
Joint pain, like numbness, ranks up high as one of the most common bikepacking injuries. Luckily, it can be mostly eliminated by getting a bike fit and having a proper position on your bike. Over use can make even a great bike fit, a non factor. Like with numbness, joint pain can also be a result of spinal issues, unbalanced muscle groups, and or poor skeletal alignment.
PAIN AT FRONT OF KNEE:
Is usually caused by the quad muscles putting too much force on the patella.
Check your saddle height. Too high or low can result in negative angles for patella and result in pain.
Fore and aft saddle position also affects the angles of the patella.
Crank length. Too long or short, like saddle height, can result in negative angles for patella.
Avoid mashing the gears.
PAIN AT BACK OF KNEE:
Is usually caused by ones' saddle being to high, thus causing over-extension of the knee joint.
A saddle that is too far back is also a major cause of this type of pain.
The result of both of these is one overloads their hamstrings.
PAIN INSIDE THE KNEE:
The usual cause of this type of pain is due to improper cleat placement. (Cleats positioned too close to the inside of the shoe).
Too much float in ones' cleats can also be a factor.
PAIN ON OUTSIDE OF KNEE:
The most common cause of this type of pain is improper cleat placement as well (Cleats positioned too far to the outside of the shoe).
IT band syndrome is the most common resulting injury.
Most of all the above types of knee pain can be remedied by a proper fitting bicycle and not over doing it. Knee pain isn't the only joint pain one might be affected by on the bike but it's the most common. Other joint pain, like numbness could be a result of other body issues and less to do with the bike or riding it.
Some other ways one can avoid and treat joint pain is to make sure to warm up before going hard on the bike. Try your best to spin, verses mashing big gears. Build your mileage up gradually to give your body a chance to adjust and get stronger. Keep your joints warm! Most pro cyclists cover their knees under 60 degrees. Warm knees are happy knees.
Lastly, be sure to monitor how you feel on the bike and how your body reacts to any changes in equipment or riding style. Noticing any discomfort before it becomes a problem will help you in the short and long run.
Exposure might be last on our list, but it's the only one which affects everyone and we can't avoid it. Luckily we can limit exposure and its effects on us. The most common types of exposure one could experience while bikepacking are: sun, weather, plants, and animals.
Too much sun can result in sunburns, sun poisoning, dehydration, or chapped lips. Next to exposure to the sun, the weather is probably the next most common type. Weather can come in many forms: wind, rain, cold, or heat.
Plants expose some of us to allergies or to plants like poison ivy, oak and other can cause rashes and more. When traveling to tour or bikepack you might be exposed to unfamiliar plants or plants you are not used to being exposed to at that time of year. This could lead to allergy flare ups.
Exposure extends to animals as well. Bears, mice, snakes, bugs and more can be an issue for anyone when in the backcountry or elsewhere.
SUN:
Cover up with SPF clothing or use sunscreen. Don't forget to reapply, as sweating will affect the efficiency of your sunscreen.
Lip Baum have SPF and help protect your lips from the wind.
WEATHER:
If possible, know the forecast. Plan your day accordingly. Avoid exposed areas and high passes if the weather is going to be bad.
Invest in quality rain gear, shelter and items that still offer warmth even when wet.
PLANTS:
Research/know what types of possible allergens you might encounter.
Know how to recognize poison ivy/oak and other plants that cause rashes.
Take immune booster before you leave and carry allergy medicines with you.
ANIMALS:
Stay alert at all times.
Know what animals occupy the areas you'll be traveling through.
Make noise when in areas with dense vegetation so not spook un-expecting animals.
Don't eat where you camp.
Properly store food whenever possible.
Exposure is a reality of being on a bicycle. Ride them long enough and you'll experience almost every kind there is. The key to dealing with exposure is to know the different types, how to prepare for them and possibly avoid them, and know possible treatments.
Another key to exposure and dealing with it, is to know yourself. By this I mean to know what you can and can't deal with. Are you allergic to certain plants or animals? Do you burn easily? Can you continue to effectivity make good decisions when you're wet or cold or both? Knowing how you deal with these things and others will help you prepare both physically and mentally.
Not all exposure can be treated, hence why prevention is key.
Some things you can do to relieve the discomfort of a sunburn are: Apply aloe vera or soy. Take a cool bath or shower. Aspirin or ibuprofen can help reduce swelling, redness and discomfort. Drink extra water.
For poison ivy, try using over-the-counter corticosteroid cream at first and apply calamine lotion. Oral antihistamines like Benadryl, and others, may also help you sleep better.
Racer cough is that nasty cough one gets after a hard race or while bikepacking or touring. You sound like you're 70 years old and smoked cigarettes for most of that time. When you cough you feel like you might break a rib if you don't stop.
The cause of racer cough is exercise-induced bronchoconstriction. The reason it happens is usually from pushing yourself too hard. Basically the small muscles lining your lungs spasm. It's common in those who are not in shape, racing/riding in cold or dry conditions or with those who over do it. Unfortunately some people are just prone to it regardless of their physical fitness or the conditions they ride in.
Your air passages have to work extra hard to humidify the air you're breathing as it travels to your lungs. The result is your air passages get dehydrated and irritated. This leads to constriction and racer cough. To prevent racer cough make sure you're in top shape before starting your bikepacking tour or race. Wearing a buff or some other type of mask can help.
FITNESS:
For some, a higher fitness level can help you avoid it.
See your doctor to determine if you have exercise induced asthma. An inhaler might be right for you.
COVER UP:
Wearing a buff or some other type of mask can help.
There's not much one can do to treat Racer Cough. The best thing to do is to try to take steps to avoid getting it. If you do get it, time is the best medicine. Your lungs and air passages need time to recover and rehydrate. For some, a trip to the doctor might in in order to address serious cases.
Achilles pain is a very common aliment on long tours or bikepacking routes. Just like racer cough, achilles pain is prevalent on the Tour Divide. You'll hear chatter about it in the forums, at the start, and during the race itself. Achilles pain can be serve and possibly lead to even worse things, like achilles rupture.
USAGE:
Be aware of over use.
Build up mileage slowly.
FIT:
Proper bike fit is key key. A saddle that is too high forces you to point your toes and in conjunction causes the calf muscles to be constantly contracted. Try lowering your seat and be sure to take note of your cleat position.
Cleats shouldn't be too far forward. Forward means toe pointing (downward). Allowing your toes the ability to point up at the bottom of the pedal stroke allows your achilles time to rest and can relive the constant tension.
One can take Ibuprofen, which has anti-inflammatory properties but don't just take it when you have pain. Ibuprofen must be in your system for consecutive days for it to work properly. Icing can help, but might prove tough in certain situations.
One can use ice or take time off the bike. Lowering your seat and adjusting your cleat position as described in the section above can help as well.
Not everyone lives at elevation or deals with increased elevation the same. Some only feel mild effects, while others experience extreme ones. Altitude Sickness can be serious and can stop you in your tracks or lead to death. Knowing how your body reactions to it is the first key, next is knowing how to identify altitude sickness and its effects, and lastly, knowing what to do when you do when you notice those effects.
There are different kinds, each has it own symptoms, treatments and medications. One can find tons of information on the web about the subject so I won't go that deep. Below we'll cover the basics symptoms and treatments. The bottomline is, do your homework and be prepared.
Mild symptoms:
Shortness of breath
Faster than normal heart rate
Headache
Tiredness
Nausea
Dizziness
Throwing up
Loss of appetite
Not feeling well overall
Trouble sleeping
Severe symptoms:
Same as mild symptoms but more intense versions
Feeling out of breath, even when you're resting
Tightness in the chest
Trouble walking/riding
Congestion in the ches
Coughing that won't stop
Seeing double
Confusion
Skin color that changes from normal to gray, blue, or paler
BEFORE YOU GO:
Eat Carbs
Caffeinate
Hydrate
Medicate
DURING ACTIVITY:
Slowly gain elevation
Drink lots of water
Avoid alcohol
Control your pace
Sleep at lower elevation
Bring snacks
Cover up to avoid exposure
Medication
Like with most injuries, prevention is the best course of action. Unfortunately, showing up early and acclimatize at a slower pace, and giving your body a chance to adjust to higher elevation, is not possible for everyone. With this in mind, have a plan, know where you might run into issues, try to sleep at lower altitude so your body can heal properly.
Treatments include:
Stop and rest (get lower if safe to do so)
Don't go higher for at least 24 to 48 hours
Take ibuprofen for headaches and anti-altitude sickness medication if you're feeling sick.
Drink plenty of water, and refrain from smoking, alcohol, or exercise.
Further acclimatization and allowing your body a chance to adjust is key.
Hopefully this article will help you prevent and avoid some of the most common bikepacking injuries and make your next adventure safer. While some injuries are wholly unavoidable, most as we've seen can be avoided.
Do your homework before you leave for your adventure. Know yourself (mind and body), determine possible issues with yourself and gear that might cause injuries, know what to expect, have a plan and know how to deal with what you might or might not encounter. Knowing what the most common bikepacking injuries are, how to avoid them, and their treatment is key. If you do, your trip will be safer and more enjoyable.
MORE RESOURCES
Read these next or checkout the main resource page.
MY PROVEN GEAR LISTS FROM THE TRIPLE CROWN
Gear lists from the AZT, TD and CTR; Pros & Cons; Things I'd do different; and Tips.
In depth look at what I would bring for gear and why, if I rode the Tour Divide, CTR, and AZTR again.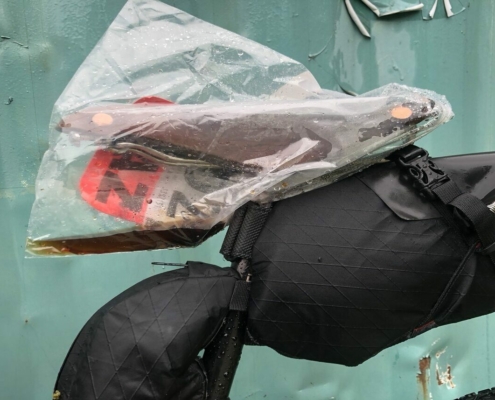 https://oneofsevenproject.com/wp-content/uploads/2021/02/rsz_ce61a8f9-0b12-4e41-b403-e902df8f4593.jpg
857
1493
Craig Fowler
http://oneofsevenproject.com/wp-content/uploads/2017/01/1of7-logo-lockup-grey-1132x212-300x56.png
Craig Fowler
2021-02-04 11:44:29
2021-02-10 12:35:03
Bikepacking - How to Care for Your Butt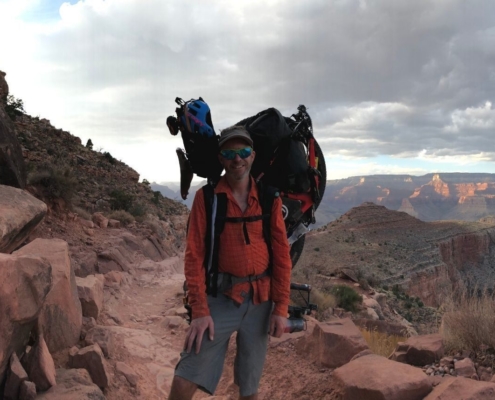 https://oneofsevenproject.com/wp-content/uploads/2020/04/rsz_untitled_design_87.jpg
857
1493
Craig Fowler
http://oneofsevenproject.com/wp-content/uploads/2017/01/1of7-logo-lockup-grey-1132x212-300x56.png
Craig Fowler
2020-11-06 08:50:03
2021-05-22 08:29:10
Bikepacking Carrying Harness 101
https://oneofsevenproject.com/wp-content/uploads/2020/04/rsz_untitled_design_81.jpg
857
1493
Craig Fowler
http://oneofsevenproject.com/wp-content/uploads/2017/01/1of7-logo-lockup-grey-1132x212-300x56.png
Craig Fowler
2020-05-19 10:09:31
2020-10-26 10:01:03
Most Common Bikepacking Injuries
https://oneofsevenproject.com/wp-content/uploads/2018/11/Untitled-design-19.jpg
857
1493
Craig Fowler
http://oneofsevenproject.com/wp-content/uploads/2017/01/1of7-logo-lockup-grey-1132x212-300x56.png
Craig Fowler
2020-04-01 08:07:05
2022-02-14 13:20:52
Gear Review - If I Rode the Arizona Trail Race Again
Checkout our bikepacking resource page for more planning help.
Throwing out of bounds sucks!
(men's and women's available).
Celebrate your thru-hiking class with the Class of ___ T-shirt!
(men's and women's & nobo and sobo available).
It's June. Ride, Eat, Sleep, Repeat Arizona Trail Race.
(men's and women's available).
Checkout all our available products in our store, and thanks for the support!
Support the Project
Simply clicking on the links below with our affiliates supports the Project.
Or checkout our Deals page to save big!
As an affiliate partner, One of Seven Project earns a commission for purchases made through any product, brand logo links, or banner ads on this page. Thanks for your support!