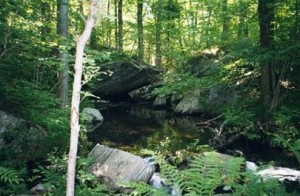 Appalachian Trail Day 100
Day 100, 06-07-01
Dennytown Road – Morgan Stewart Shelter
19.7 miles, AT  –  1418.1  -1285 Feet
6:45 AM 6:15 PM
I slept very well last night.  The trail was normal NY style.  If theres a pile of rocks, you're going to climb it.  We did have a great break at a viewpoint over Canopus Lake.  We had lunch at RPH Shelter.  The water was from a pump.  At first it was only a little funky.  It tasted like iron.  As it sat, it got cloudier and cloudier.  It was terrible.  I hung out all my gear, which was damp.
Tangent, Moonshower, Anduleia, Happyfeet and Hatman all left before me.  I wasn't even packed.  I put the afterburners on and caught all of them.
We had lunch/dinner at Mountain Top Market.  I got Yodels. Coke (12 oz), and a Gatorade.  Then I ordered a pizza and got another Coke (20 oz.).  Then I had a Ring Ding and another Gatorade.  To say the least, I was full.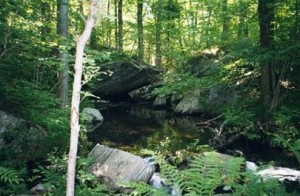 We had another four miles to go in which I saw another Ribbon Snake and four deer (65).  Even though we're at a shelter, I'm tenting.  I don't like the mosquitoes.  I'll buy a head net in West Hartford with Jim.
My scalp is so dry.  I found another tick walking on me and another one dug in on my hamstring down near my knee.
We have a fire going for the first time in a while.  Its almost hiker midnight (9:30 PM).  Another 20 or maybe 30 tomorrow.
I saw two adult turkeys with 6-8 young and another adult with over a dozen young.  It was really funny to see the babies flying.  They're almost as funny as an adult turkey.
Scatman 2011-  I can totally recall eating and drinking all that food but I don't recall the market at all.  The weather was typical New England weather, hot and humid.  Ticks occupied my thoughts whenever we went through grass or over grown brush.  I would do spot checks ever 10-20 minutes some times.  I constantly had that "something is crawling on me" feeling most of the day.  It didn't help I was usually the first on down the trail so I had to walk through all the silk worm webs.

BTW, hiker midnight is 9pm, NOT 9:30.
———-
Scatman
Get out there!
https://oneofsevenproject.com/wp-content/uploads/2019/01/22-06-e1307418583402-300x196.jpg
196
300
Craig Fowler
http://oneofsevenproject.com/wp-content/uploads/2017/01/1of7-logo-lockup-grey-1132x212-300x56.png
Craig Fowler
2001-06-07 09:00:12
2019-01-20 12:27:55
Appalachian Trail Day 100 - Dennytown Road - Morgan Stewart Shelter