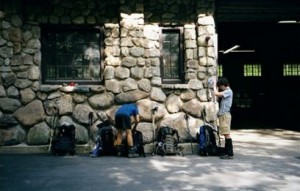 Appalachian Trail Day 99
Day 99, 06-06-01
Seven Lakes Drive – Dennytown Road
18.7 miles, AT  –  1398.4  –  830 Feet
7 AM 6 PM
Last night was a sticky night.  I showered with soap tonight.  It's really damp tonight.  Nothing is going to dry.
We climbed Bear Mountain, then moved on to the post office.  Once we did the usual post office thing, it was time for phone calls.  I was behind at this point but Captain was further behind.  He met me while I was looking at two foxes at the Trailside Museum and Wildlife Center.  They had a Bobcat, Coyote, red and silver foxes, porcupines, River Otter, lots of snakes, frogs, fish, beaver, deer, turkey, Bald Eagle, owls, hawks, ducks and two bears.  My first bears.  I was at the lowest point on the AT. (physically)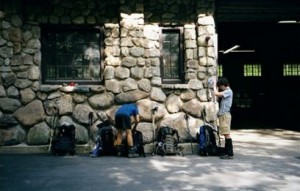 The day got hotter as it went on.  We crossed the Hudson River and entered the land of P.U.P.S.  After the Wildlife Center, it was only 15 miles but they were so tough.  I drank like a fish and sweated like a pig.  We took many breaks.  Captain's book talked of a Citgo Gas Station 6 miles from Bear Mountain.  When we got there, it was closed and abandoned.  The last gas price that was still up was $1.46.  Goes to show how long it was closed.  It was a big let down.
Saw a deer (61) and a ribbon snake.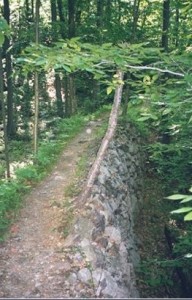 We finally got to camp and found Gadget and Slack who I haven't seen since two days out of Hot Springs.  Slacks feet were really bad so they had to get off the trail.  They took a month off and are back now.  We're all in a big field.
I took two big ticks off me today and at camp Slack found two deer ticks.  I will keep them in case I show signs of Lyme disease.
Scatman 2011- Once again I had a great time hiking with the Captain.  The gas station ordeal was heart breaking.  We both wanted it to be open so badly.  The idea of buying an ice cold Coke on that hot day was mouth watering.

Knowing how many ticks I took off myself during this trip, and how bad the ticks have gotten in the 10 years since then it almost scares me from thinking about doing the trail again.  I hate those little suckers!
———-
Scatman
Get out there!
https://oneofsevenproject.com/wp-content/uploads/2019/01/21-25-e1307343574324-300x191.jpg
191
300
Craig Fowler
http://oneofsevenproject.com/wp-content/uploads/2017/01/1of7-logo-lockup-grey-1132x212-300x56.png
Craig Fowler
2001-06-06 09:00:53
2019-01-20 12:29:17
Appalachian Trail Day 99 - Seven Lakes Drive - Dennytown Road