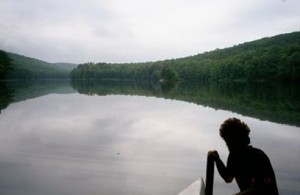 Appalachian Trail Day 108
Day 108, 06-15-01
South Lean-to – Upper Goose Pond Cabin
15.9 miles, AT  –  1529.7
7 AM 2 PM
Wow!  New ear plugs.  They worked so well I didnt hear my alarm.  I woke to find out a porcupine had chewed my grips of my hiking poles.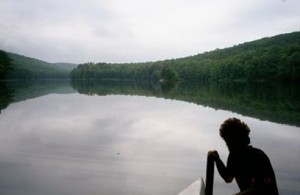 I tried to get up early but I didn't get up in time.  It was hot by 8:30 AM.  I saw two deer (71), a turkey and a ruffed grouse.  It was the first grouse in a few months.
I didn't stop much at all.  Just once to get water at the Shaker Campsite.  The bugs are still unbelievable.
I have decided not so do my 30 miler.  Too hot.  It's still get to Williamstown by Monday.  I'll be there in three days.  Upper Goose Pond is wonderful.  The lodge here is great.  I went swimming in the lake.  Theres a canoe here.  I might take it out later or in the AM before I leave.  Theres a deck, stove, frig, fireplace, two stories and a great view of the pond.  I considered taking a zero day to allow my tribe to catch up.
Scatman 2011- The whole time I have been posting this I recalled I only spent 3 nights alone and I forgot how long I was actually in MA.  It seemed like I spent the 3 nights alone then I was in Vermont.  Clearly my memory of the facts is not all that clear .  Upper Goose Pond was an amazing spot.  The care taker there was even more chatty than me.  I would meet him again in 2003 when I hiking the LT.  He was working on a trail crew just south of Bromley Mtn.
———-
Scatman
Get out there!
https://oneofsevenproject.com/wp-content/uploads/2019/01/23-13-e1308024485723-300x195.jpg
195
300
Craig Fowler
http://oneofsevenproject.com/wp-content/uploads/2017/01/1of7-logo-lockup-grey-1132x212-300x56.png
Craig Fowler
2001-06-15 09:00:13
2019-01-20 12:12:43
Appalachian Trail Day 108 - South Lean-to - Upper Goose Pond Cabin