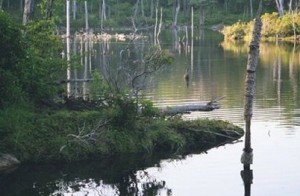 Appalachian Trail Day 109
Day 109, 06-16-01
Upper Goose Pond – Toms Front Porch, 83 Depot Street
20.6 miles, AT  –  1550.3
8 3 PM
I got up late again.  Slowfoot, the caretaker, made us a crazy pile of pancakes, or should I say griddlecakes.  I ate and waited for Tim, a section hiker.
After crossing the Mass Pike, I lost Tim on a climb.  I caught Vice a while later.  Throughout the day it was bog bridge to beaver and back to bog bridge.
At October Mountain Lean-to, I thought about doing my 30 miler, or catch the kids.  I was hiking along and some weekenders informed me that two hiker were 10 minutes in front of me.  I ASSUMED it was Captain and Speedy.  The next people told me 15 minutes, then it was 100 yards, then finally it was 3-4 minutes.  None were right and neither was I.  It was Disco Dan and Chestnut, who I had stayed with the night before.  I busted my hump for over an hour and a half to catch two people who left one hour before the very same morning.
I hadn't caught the kids, so at Kaywood Shelter, I gave into the idea of doing 34 miles to the next shelter.  Upon entering Dalton, I see a hiker on a BMX bike run up to the porch.  It was Captain.  The kids were in town and staying on this guys porch.  Tom, the owner of the house, drove us to the mall, where we saw the movie Swordfish.  A good flick.  I used free email at the mall to talk about my failed 30 miler.  Tom picked us up and even played Hackie Sack in his backyard and then went to eat.  Tom put up tarps to keep the rain out since the forecast called for heavy winds and rain.  It was very muggy and hot.
Scatman 2011- This day was so frustrating.  I was so set on catching the kids I forgot that there could be any other hikers between me and them.  When I did find them there was debate about whether or not I should do my 30 miler.  Some of the kids were telling me to go for it and others wanted me to stay.  I obviously stayed and I'm so glad I did.  They were a great group.
———-
Scatman
Get out there!
https://oneofsevenproject.com/wp-content/uploads/2019/01/23-09-e1308201033782-300x196.jpg
196
300
Craig Fowler
http://oneofsevenproject.com/wp-content/uploads/2017/01/1of7-logo-lockup-grey-1132x212-300x56.png
Craig Fowler
2001-06-16 09:00:41
2019-01-20 12:10:05
Appalachian Trail Day 109 - Upper Goose Pond - Tom's Front Porch