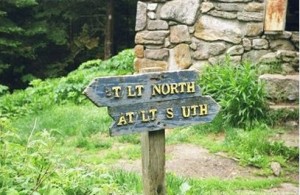 Appalachian Trail Day 117
Day 117, 06-24-01
Claradon – Pico (Scatcave)
16.5 miles, AT  –  1681.4
Got up early.  It was overcast and rained a little during the day.  Since I've hiked this section before, I was flying along.
I love this area.  The hiking through this section is beautiful.  Probably why I've hiked this section so many times.
I had lunch at Coppers Lodge and then went over the peak to see if I could get a view.  I got a quick view before some clouds moved in.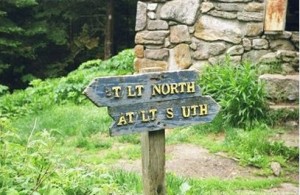 Once at the condo (Scatcave, as everyone named it), I unpacked, showered and had a Coke.  No one showed up until the guy I met on the trail, who offered us a ride to Rutland, came by.  Crash and Burn were just coming into the parking lot as Creeper and I went up to the Inn at the Long Trail.  They told us Arlo, Captain and Speedy took the gondola down to Killington Base Lodge.  Little did they know they were now 8-9 miles from the Scatcave.  They lucked out by getting a ride on a bus.  They were at the Inn and so was B/A.
We went back to the Scatcave, cleaned up, then Creeper took us food shopping and to EMS.  He hung out a while then had to go.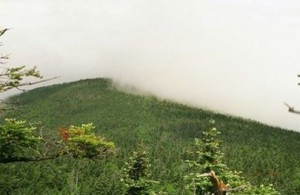 Kevin, an old college buddy, came by to see me.  He didn't recognize me.  He hung out for a couple of hours.
We watched a movie and went to bed.
Scatman 2011- This was my 6th time up Killington and I think the 4th from the south.  Since I knew the trail I pretty much anticipated every turn along the way.  There's a tree on the southern slope of Killington that has a knot that looks like an ear.  Every time I go by it I whisper a secret into it.  It's only for the forest and I.  I don't tell anyone what I wished for, just like on your birthday when blowing out the candles.

It was great to see Pico, the condo and my old college buddy Kevin.  The look on his face was priceless.  I wish I had a video camera for the whole interaction.  You could see how he didn't get over the shock of my beard and hair.  In college I kept my hair buzzed the whole time.
———-
Scatman
Get out there!
https://oneofsevenproject.com/wp-content/uploads/2019/01/25-17-e1308803025755-300x195.jpg
195
300
Craig Fowler
http://oneofsevenproject.com/wp-content/uploads/2017/01/1of7-logo-lockup-grey-1132x212-300x56.png
Craig Fowler
2001-06-24 09:00:31
2019-01-19 15:48:07
Appalachian Trail Day 117 - Claradon - Pico (Scatcave)