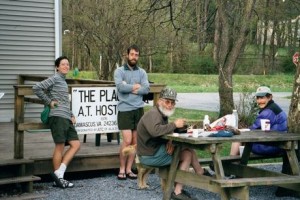 Appalachian Trail Day 40
04-08-01, Day 40
Zero Day
Sunny, warm
As I said, I had breakfast at Mountain Mans café, thanks to Jack and Bag of Tricks.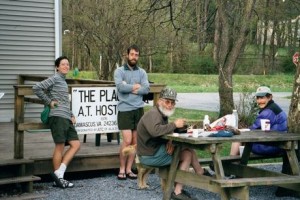 Later I hung out at the outfitter, wrote postcards, bought fuel and a fleece sleeping bag for later on down the trail, had more pizza, shopped for more food, made calls and hung out more.  I did laundry yesterday, too.
Today was low key.  Got some ice cream after dinner.  Food is all that matter if you cant tell.
Tomorrow it's back to the trail.  4-5 days to Atkins.
Scatman 2011- Zero days can drag since the towns are usually pretty small and it's not like there's a movie theater or mall to go window shop at.  The highlight of the day was at the King Dairy, an old Dairy Queen.  I got my ice cream and was sitting outside when Mr. Pat came out and asked me for some change.  I asked why he said to just listen.  With in moments the "Scatman" song by Los Del Mar who do the Macarena.  Later down the trail I would tell the Scatman Story many times.
———-
Scatman
Get out there!
https://oneofsevenproject.com/wp-content/uploads/2019/01/11-01-300x200.jpg
200
300
Craig Fowler
http://oneofsevenproject.com/wp-content/uploads/2017/01/1of7-logo-lockup-grey-1132x212-300x56.png
Craig Fowler
2001-04-08 09:00:55
2019-01-24 17:08:59
Appalachian Trail Day 40 - Damascus