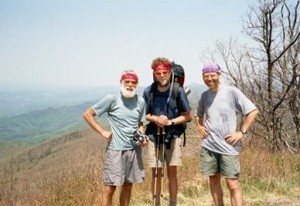 Appalachian Trail Day 61
Day 61,  04-29-01
17 miles, AT  –  780.0  – 1,000 feet ±
Matts Creek – Little Irish Creek Campsite
7:45 AM 4:15 PM, 70-78°, Breezy
I froze my butt off again last night.  I woke up at 3 AM freezing.   I put my fleece on and my pants and was still cold.  I just kept praying for the sun to rise.  When it did, it wasn't much warmer.  I gave a note to a guy there to call my folks saying to order me another bag or send my old one to me.  You'd figure I would have this worked out after two months.
The walk along the James River was terrific.  The ATC put in a nice footbridge across the river.  It must have cost big bucks.  Then we had a beautiful hike along a creek which flowed into the James.  Then we started up.
We had great views south on Fuller Rocks which were on Little Rocky Row.  Next we climbed Bluff Mountain.  We stopped to talk to some day hikers and spent almost an hour on top.  Back in April of 1991, a 4 year / 11 month old little boy wandered from a school 7 miles away and his body was found on the summit.  There was a plaque telling the story.  To think a kid almost 5 walked 7 miles to the top of a 3,000 foot plus mountain!
On the way down, I stopped at the next shelter for water but really didn't need it.  I went for the others.  They never came down to the shelter.  We have been using Barred Owl calls to indicate how far or close to a shelter we are.  They called but I didnt hear them.  I caught Bill a half mile later and Al some time after that.  I made him take water since it had offset my pack.
On the way over Rice Mountain, I stopped in a beautiful spot filled with huge beech trees and I just listened.  The woods were quiet and just breathtaking to look at.  It made me feel lucky to be out there.
The rest of the day was uneventful. We are camped next to a little creek.  Going to have fire tonight.  After lunch or before, we passed a couple.  The wife was a big bird watcher.  She had binoculars and she knew her birds well.  She said she had seen a Scarlet Tanager early.  I looked myself and saw one.  What a bright red.  I only saw it from behind but it was great.  They also said since they left Duncannon, PA they only passed 2-3 dozen NOBOs!.  We are thinning out.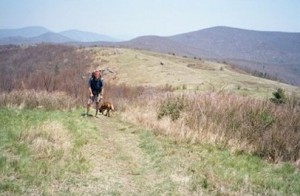 Not much Trillium or May Apple today but yesterday we walked through a patch of each that was huge.
Scatman 2011-  The bridge of the James River reportedly cost a million dollars!  It was a big bridge so I don't doubt it.  The climb up Bluff Mtn was a brute.   It was sad to see the plaque about the little boy but it also showed me the power of the human spirit.  I don't know what made him wander off as he did but he had the mental and physical drive to climb that mountain.  If he could do that I could do more.
———-
Scatman
Get out there!
https://oneofsevenproject.com/wp-content/uploads/2019/01/15-14-e1303876392874-300x206.jpg
206
300
Craig Fowler
http://oneofsevenproject.com/wp-content/uploads/2017/01/1of7-logo-lockup-grey-1132x212-300x56.png
Craig Fowler
2001-04-29 09:00:27
2019-01-23 13:18:16
Appalachian Trail Day 61 - Matts Creek - Little Irish Creek Campsite