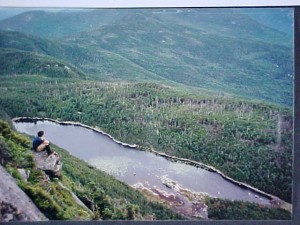 Appalachian Trail Day 126
Day 126, 07-03-01
Beaver Brook – Kinsman Pond Campsite
13.1 miles, AT – 1790.6
I guess I kicked Arlo in the head during the night. Everyone slept with their heads in but I had mine out. We set the watch to wake up to see the sunrise. I never heard the alarm but luckily Speedy was cold and woke up to put on his fleece. The sunrise was spectacular. It was red and purple. After that I was back to sleep.
We got a late start but the hike was great. We had lots of down and up. Steep was the name of the game. Going down from the shelter, we followed a cascading brook. We got to see a few waterfalls and some nice pools.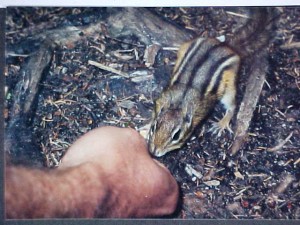 After making it out of Kinsman Notch, it was a tough 6.7 miles to Elisa Brook Shelter. By the time I got there, I was spent. The bugs were bad too. A wild chipmunk came right into camp and took nuts from Arlo's hand. He bit Arlo's had twice. The chipmunk stuck around for a while.
We had a nice climb up South and North Kinsman. On North, we had a great view of Kinsman Pond.
At camp Arlo and Captain did work for stay. Tonight its Arlo, Captain, Velvet Jones, Speedy and I. Crash and Burn went ahead to Lonesome Lake Hut to do work for stay. BA is still out ahead of us somewhere.
Kevin is the caretaker here. He's totally cool. He just did a 1.5 year trip to Asia. He saved up $8,000 and planned a huge trip. He went to Fiji, New Zealand, India, Nepal, Pakistan, Indonesia and even more. Talking to him is so motivating.
Well tomorrow its up Lafayette Ridge for more great views.
Scatman 2011- I had been to the Kinsmans before so I was kind of in familiar territory.  Crash spooked a moose on the way to South Kinsman summit.  I was very jealous.  The day was short but we tried to enjoy ourselves as much as possible.  We all knew the views over the coming days were going to be spectacular so we wanted to enjoy them as much as possible.
———-
Scatman
Get out there!
Powered by adventure, fueled by Feed the Machine, Hydrated by nuun, and b
https://oneofsevenproject.com/wp-content/uploads/2019/01/MVC-020S-300x225.jpg
225
300
Craig Fowler
http://oneofsevenproject.com/wp-content/uploads/2017/01/1of7-logo-lockup-grey-1132x212-300x56.png
Craig Fowler
2001-07-03 10:34:53
2019-01-19 12:29:22
Appalachian Trail Day 126 - Beaver Brook - Kinsman Pond Campsite