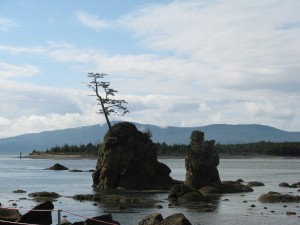 PCT 2007 Day 8
Stage 8 / 4-2-07
Nehalem Bay – Pacific City (Kiwanda RV Park)
54.09 miles; 366.9 total miles 11.2 mph avg. 4:47 hours
Rain – then partly cloudy w/ sun in late PM
I'm couped up in my tent and not motivated to move. Alarm went off at 6:30 and now it's 7:30. A rain shower hit right as I was getting ready to get out of my tent. Today is going to be cold and wet.
Well it was wet for the duration of my cooking and packing. I'm not sure if I would rather have it rain during the ride or while packing up. Probably during the ride, that way I wouldn't have to pack wet gear only to hope I could dry it out later.
I had new pains from those of week 1. Today it was the right hamstring again but it was coming from the side of the leg more. I still get really tight if I push too big of a gear. I really have to make sure I'm always spinning.
The stage started with rolling roads along Nehalem Bay, on Rt. 101, and I stayed along the coast until around Bay City where, at that point, the road headed inland to Tillamook.
I felt good up to this point; but when I stopped to shop at Safeway, I got really cold. It was still pretty gloomy out. I stopped by the library to check my email and look at Google maps because I want to look at an alternative route, cutting the stage. I ended up cutting about 6 miles off it. In Tillamook I took Third Street to Rt. 131, my cut off. This took me to Rt. 6, then on to 871 and Pacific City. I got sprinkled on as I left town. My cut-off still had a climb which was what I was trying to avoid but it wasn't too bad.
On Rt. 6 I passed Sandlake Rec. Area. It was a giant dune. I saw a lot of pick-ups hauling ATV's in the area. It looked like it would have been fun. The dunes themselves were really beautiful. Later in the trip I will pass much larger ones.
At a small store at the entry point to the dunes, I asked directions. I got the scope on two more campgrounds up the road. The plan was to stay there but it was too early. My maps only show a quarter of the campgrounds. I've learned to ask, there's always one some place.
When I got to the finish it was a down hill sprint into Pacific. I topped out at 30 mph. Once to town, I pulled on to the beach and chatted up a surfer, while watching the waves. The RV park I'm at had a pool and Jacuzzi. I used the latter to quiet my aching muscles. Town is cute and it seems to be getting bigger since there's construction going on. The RV park has some tame bunnies that were let go and multiplied all over. It's pretty funny. Bunnies are all over.
By the time I got to Rt. 6, the weather was much better and it appears it might not rain tonight. The surfer said we are good for a few days and then another front is coming on the weekend. I hope I'm south of it.
There is a pizza place next to the entrance of the RV park and I couldn't pass it up. Tomorrow is South Beach State Park, just south of Newport, OR.
Today was tough mentally while on the bike but now it seems trivial. The ride is like a job already. I need to start listening to more tunes to help occupy my thoughts during the day.
Scatman 2011-  A beautiful day filled with mixed emotions.  The night before I put a candle in a Penguin brand cupcake, a rip off of Hostess, and sang happy birthday for my cat, Keyser Soze.  Surprisingly my singing was better than the cupcake, which tells you how bad it was.  I didn't think those things could go bad but they can.  I took one bite and spit it out.

Even though this day started rough the ending was like most on the bike trip, amazing.  Great sunset, good meal, and bunnies.  Okay only this place had bunnies.
Scatman
Get out there!
You can check out my Appalachian Trail or Continental Divide Trail journals too!
https://oneofsevenproject.com/wp-content/uploads/2019/01/IMG_1539-300x225.jpg
225
300
Craig Fowler
http://oneofsevenproject.com/wp-content/uploads/2017/01/1of7-logo-lockup-grey-1132x212-300x56.png
Craig Fowler
2007-04-02 22:40:24
2019-01-29 20:59:46
PCT 2007 Day 8 - Nehalem Bay - Pacific City, OR