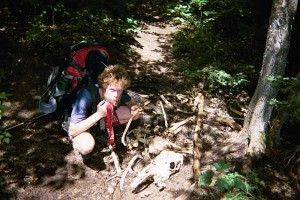 Appalachian Trail Day 146
Day 146, 07-23-01
Monson – Wilson Valley Lean-to
13.7 miles, AT – 2064.0
Didn't sleep well.  I forgot to mention that I saw a deer (?) in Maine.  None in NH.  I also saw a linx or a Bobcat yesterday.
We all had breakfast at the Pie Lady's.  The pancakes were over cooked.  Mom would have loved the beacon, crispy.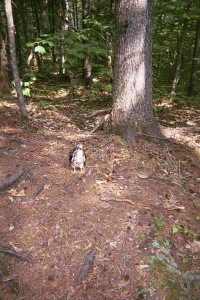 I went to the laundry and PO.  It was Africa hot out today.  So humid too.  Jeff and I started out around 11am.  Mr. Shaw drove us to the trail head.  We didn't make it 3 miles before we had to stop.  The heat was oppressive.  You couldn't keep your water cold.  We stopped at the dead moose.  There was lots of hair and bones.  Nothing else.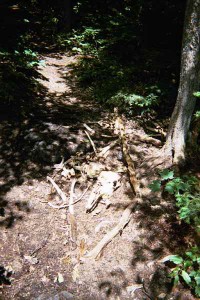 The rest of the hike was stop and go due to the heat.  We did get rained on for a few minutes.
I look at what time I started this day and wonder what I was thinking.  I knew what the weather was going to be like.  The hiking was so tough.  I wouldn't wish it on anyone.  It was down right brutal.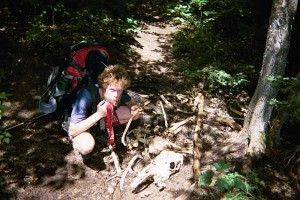 Tonight at camp its Jeff, Mortis and myself.  I'm so beat from the heat.  I forgot to mention something.  I was hiking up a small hill w/ my head down, when I see this grouse right in front of me.  Ive been attack enough on this trip so I backed up quick.  I then noticed it wasn't a grouse but a small Red Tail Hawk.  I think it was hurt.  It's feathers on its head were roughed up.  I wish I had a phone to call someone to help him.
Scatman 2011- I know I've already said this many times now but the heat/humidity wave was oppressive and getting worse.  I would hike 30 minutes and break at least 30 minutes.  The weather just sucked the energy from the cell in my body.  This 13 miles felt like 25.  A full pack with 6 days of food, rough terrain, heat and humidity made for a tough tough day.  All I could think about while hiking was a cold shower and a Coke.  After my leach incident I was afraid to go in the water.

I was sad to leave the tribe.  The kids stayed and extra day so they could experience Shaw's Hostel.  I was hiking without them for the first time since the start of Vermont.  They wouldn't be far behind on the trail or in my mind.  I had grown close to all of them.
———-
Scatman
Get out there!
https://oneofsevenproject.com/wp-content/uploads/2019/01/216-300x200.jpg
200
300
Craig Fowler
http://oneofsevenproject.com/wp-content/uploads/2017/01/1of7-logo-lockup-grey-1132x212-300x56.png
Craig Fowler
2001-07-23 09:00:21
2019-11-29 22:10:39
Appalachian Trail Day 146 - Monson - Wilson Valley Lean-to