Appalachian Trail Day 29
03-28-01, Day 29
14.6 miles, AT  –  311.8
Jerry Cabin – Hogback Ridge – 4,255 feet
7:55 AM ® 2:50 PM
Today was a tough ass day.  Shorter than yesterday but a lot harder.  Tough P.U.D.S.  Got some trail magic from a group of trail workers.  They gave us yogurt and peanut butter cookies.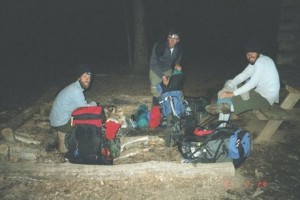 Not many views today and more icy snow.  I hiked with Agatha more today.  She is a strong hiker.  Tomorrow we might try to go 20.6 miles so we can stay at a shelter.  It's suppose to rain/sleet tonight and into tomorrow.
Gadget and Slack are mentally down.  They told Mr. Pat they might call it quits if it snows.
I rebuilt yet another fire pit here on the AT.  Im the Fire Master!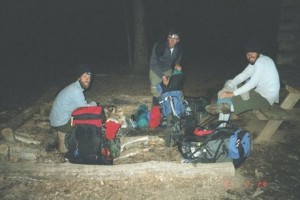 Today hurt me physically and mentally.  There were times on the climbs I didn't want to walk.  It's almost been a month now.  I feel strong at times and weak the next. I will have to keep myself mentally in check.
Fart Baseball
If I fart,I get a man on base.  If I fart again I get another and so on.  If you fart after any one of mine, you clear the bases.
Two farts in a row scores a run.
Fart Tennis
I fart; you must fart in return.  If you can't and I fart again, server's ace, 15-0.  If you return and I can't then you fart again you get the point, 0-15 and so on.  Basically except for when an ace occurs, the two players fart until one of them farts twice and they receive the point.  This one is much easier to score and keep track of while hiking.
If you think your opponent might have soiled him/herself in an attempt, you can call "NET", which means you think they shit themselves and no point.
Life on the AT, bet you wish you were here.
Scatman 2011- My gut told me Gadget and Slack would be leaving the trail and they did.  I did get to spend some of the time around this date with Photon, Raven, and Broken Down Palace.  I really enjoyed their company and had wished I got to know them better.  They hiked at a different pace but we did get to spend some nights around the fire together.
———-
Scatman
Get out there!
https://oneofsevenproject.com/wp-content/uploads/2019/01/9-04-300x200.jpg
200
300
Craig Fowler
http://oneofsevenproject.com/wp-content/uploads/2017/01/1of7-logo-lockup-grey-1132x212-300x56.png
Craig Fowler
2001-03-28 09:00:23
2019-01-24 17:50:39
Appalachian Trail Day 29 - Jerry's Cabin - Hogback Ridge