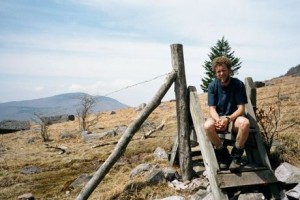 Appalachian Trail Day 41
4-9-01, Day 41
15.8 miles, AT  –  455.1  3,360 feet
Damascus – Lost Mountain Shelter
Sunny – 80°
Got to bed late last night.  Almost 12 AM two nights in a row.  Had breakfast.  Said good-byes to all the others and stole one more shower!
Oh, I used my first Q-tip in 42 days.  One word, dirty!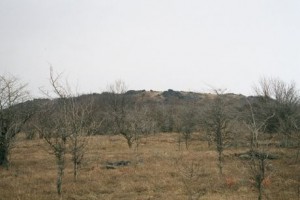 The hike started easy but it got hotter as the day went on.  We stopped 3 times today and they were long breaks.  My thermometer said 80° at one point.  I wet my hair and it dried in no time at all.  We went from winter to summer in two days.
I should have drunk more water.  Im super tired now.  Probably a bit dehydrated.
I had dinner and took a 20-minute cat nap.  Agatha and I are here with a guy named Tony, his actual name.  Passed Mr. Pat and his nephew and brother-in-law heading southbound on a slack pack.
I can't get over how tired I am.  My mind is mush.  Too much sun!  Hopefully, I'll sleep okay.  I washed myself before dinner with a bandana.  Didn't see too much today except the Virginia Creeper Trail.  It's a bike path about 18 miles long.  They shuttle people in vans to the top and they bike down into Damascus.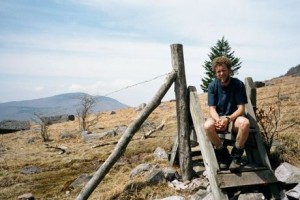 Time to work on more postcards.
Scatman 2011- Okay the Q-tip is nasty.  I'm even disgusted to read that.  The weather change was tough.  There's nothing like that East coast heat and humidity.  I'm sure all the food and late nights didn't help my tiredness on this day.

Two years ago I went back to Damascus and rode bikes on the Virginia Creeper and also rode some mountain bikes in the area of the AT.  I crossed the AT twice on one of the trail I rode.  I have to say I don't remember hiking out of town.  I do recall the next day coming up tomorrow.
———-
Scatman
Get out there!
https://oneofsevenproject.com/wp-content/uploads/2019/01/11-091-300x200.jpg
200
300
Craig Fowler
http://oneofsevenproject.com/wp-content/uploads/2017/01/1of7-logo-lockup-grey-1132x212-300x56.png
Craig Fowler
2001-04-09 09:00:53
2019-01-24 17:07:24
Appalachian Trail Day 41 - Damascus - Lost Mountain Shelter