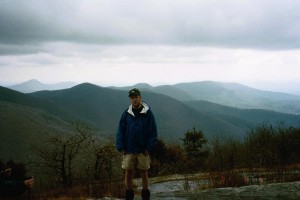 Appalachian Trail Day 5
03-04-01  Day 5
Woods Hole Shelter – Low Gap Shelter
Day 3 of rainHit the trail at 7:45 AM and did my first 4000 foot (Blood Mountain).  I got to Neels Gap at 10:20 AM.  I didn't shower but I did dry my dirty clothes.  For some reason I was in a rush to get to Low Gap Shelter. Rain was forecasted so I did 14.7 miles to get here.  My feet hurt from the miles and impact they take.  I bought some postcards, bagels, hand lotion and a knife.  I forgot to ship back my film and I didn't but any and now I have 1-2 pictures for the next 5-6 days.  I need to make a list before I get to town from now on.I saw some type of sparrow today, a squirrel (gray) too.
The sun came out for a bit.  I finally got to see some of Georgia.  Today was a tough day.  1  4000 footer, 3  3000 footers, lots of gaps too.
I got a Coke and a banana.  I didn't get to camp until around 4-4:30 PM.  I was so tired.  I barely got my supper down.  Had to put my food bag on a bear safe cable.  It's raining again.  It should be getting cold tonight and then warming up until Friday and more rain.  Saw more woodpeckers (Hairy or Downy).
———-
Scatman
Get out there!
https://oneofsevenproject.com/wp-content/uploads/2019/01/047-300x200.jpg
200
300
Craig Fowler
http://oneofsevenproject.com/wp-content/uploads/2017/01/1of7-logo-lockup-grey-1132x212-300x56.png
Craig Fowler
2001-03-04 09:00:40
2019-01-24 21:59:17
Appalachian Trail Day 5 - Woods Hole - Low Gap