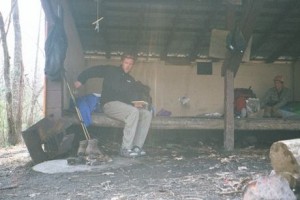 Appalachian Trail Day 38
04-06-01, Day 38
12.6 miles, AT  – 445.1  3,785 Feet
8:07 AM – 12:40 PM
Unknown Campsite – Abingdon Gap Shelter
Foggy then clearing in the PM
Today was the easiest day yet!  We averaged about 3 MPH.  The terrain was easy and good to walk on.  We had planned on tenting again, but when we stopped it was foggy and the trees kept dropping water.  We decided the 10 miles into Damascus looked easy enough to do in the AM before the post office closed.
The sun came out after we had unpacked our bags.  I was able to dry some gear out and did a bunch of reading.  We'll hit the hay early and get out of camp by 6 AM to get to the post office in time.
Last night it started to rain so we retreated to our tents.  After ten minutes the rain stopped.  I went out to start the fire up and someone came to visit our camp.   Mr. Cottontail himself was less than 6 feet from me and only one foot from Agatha's tent.  I got his picture while he was in the bush.  Later he came out in the open but I spooked him when I went for my camera.  That didn't stop him he came back once more.
The AM was wet and packing was no fun but it turned out to be nice after all.
I found out how far a pair of shoe laces goes today.  About  444 miles.  I broke one a mile before camp.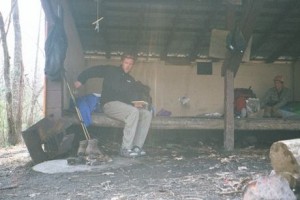 Tomorrow were into VA and Damascus.  I'll get some pizza, shop, frappe (sp.), and use the Internet.  On Sunday I will zero.  Postcards and rest is all I have planned.
6:40 PM  off to an early sleep but I planned to read first.  Agatha has my book. So as I sat waiting, I went to rest my head against the wall.  As I reclined back my head hit something soft like a spiders web.  I jerked my head forward and turned around.  There was nothing of course.  What I felt was the hair on my head!
If I push my hair against the concrete wall with my skull touching, it feels like pins and needles.  Drugs?  What drugs?  I'm sane, really I am.  Yesterday I was seeing lights, too.  Don't ask, I'm not.
Scatman 2011- It amazes me I went to bed so early on the AT.  On the PCT I wasn't in camp until 8:30 or later at times.  I was in bed most nights on the AT by 7 to 7:30.  The AT at times demanded going to bed early but compared to the PCT it was dreadful early.  That is why you just can't compare the two trails.  The two are so different in so many ways it's not fair when I'm asked by people to compare the two.
———-
Scatman
Get out there!
https://oneofsevenproject.com/wp-content/uploads/2019/01/10-20-300x200.jpg
200
300
Craig Fowler
http://oneofsevenproject.com/wp-content/uploads/2017/01/1of7-logo-lockup-grey-1132x212-300x56.png
Craig Fowler
2001-04-06 09:00:16
2019-01-24 17:14:44
Appalachian Trail Day 38 - Unknown Campsite - Abingdon Gap Shelter