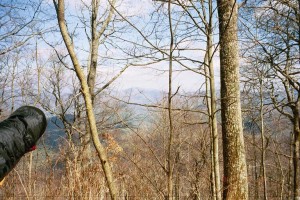 Appalachian Trail Day 6
03-05-01 Day 5  3:10 PM
7.8 miles, AT  –  48.5
Low Gap Shelter – Blue Mtn. Shelter
Cold, Windy, Clear
Last night it was all men.  The jokes and language went downhill fast.  Tom, a thru-hiker from North Adams, had stayed at Low Gap Shelter all day and today too.  He had bad blisters.  Low Gap had bear cables for our food.
Cold last night, snow on the ground in the AM.  Today was tough on me.  It was flat but I hurt from the miles yesterday.  My feet still hurt from the load.
I filled out my postcards, hung laundry and collected wood for a fire.  Hit the trail at 7:45 AM and was at camp at 10:55 AM.  Tomorrow I will hike to Tray Mountain.
Today marked a first, I thought about how tough this is going to be and how easy it would be to quit.  Long days and cold make for a tough outlook.  I need to continue the low miles despite those around me going on.
My legs are heavy and so is my mind.  Hoping for warmer weather and better sleep.
We can see the highest peak in George from here.  The view is great from this shelter but it will be a cold night.  The shelter has a roof porch area and a tarp, which is going to be noisy.  Need to eat.
—-
Scatman
Get out there!
https://oneofsevenproject.com/wp-content/uploads/2019/01/050-300x200.jpg
200
300
Craig Fowler
http://oneofsevenproject.com/wp-content/uploads/2017/01/1of7-logo-lockup-grey-1132x212-300x56.png
Craig Fowler
2001-03-05 08:50:42
2019-01-24 21:50:23
Appalachian Trail Day 6 - Low Gap Shelter - Blue Mtn. Shelter