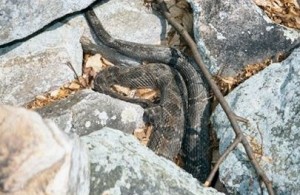 Appalachian Trail Day 86
Day 86, 05-24-01
Rausch Gap – 501 Shelter
17.4  miles, AT  –  1173.7
7:15 AM 3:00 PM
I slept terrible last night but didn't feel too bad in the AM.  I woke up at 1:20 AM and it seemed like I tossed and turned the rest of the night.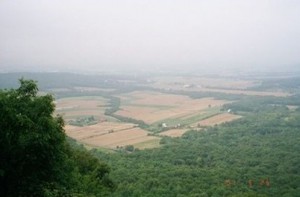 The trail started out okay as it went though an old coal mining area.  There was also a site of a town that was for the coal miners that was abandoned around 1872.  The coal wasn't productive so the railroad moved.  The town was gone soon after.
We all stopped on an old bridge.  I read a paper I found that was a day old.  Ray Bourque going to the finals!  I hope he gets his chance to hoist the cup.  My stock is still in the red.
Later after passing a section hiker named W.T., I was hopping across a boulder field and I saw my first rattlesnake !!!  It looked as if it just ate.  Its head was smaller than I expected and its neck was only as big as my thumb!  But a fat belly.  I waited for everyone to catch up so they wouldn't miss it.  Tangent, Hatman were discussing God!  Heated debate let me tell you.  The snake was very dark colored too.  It was a Timber Rattler.
I stopped at William Penn Shelter and talked to a family who started Jan 12th.  The mother hurt her knee so they were holding out in the shelter for a few days.  After that I was only 4 miles to the shelter.  Once there we ordered pizza and soda.  Tomorrow it a 23.7 day into town (Port Clinton).  Theres supposed to be a nasty 8 mile rock section coming up too.  My dogs are tired too.
Scatman 2011- Luckily for me W.T. told me about the rattle snake.  Even though I knew it was in a rock field I still almost missed it.  I actually almost stepped right over it.  It was down among the rocks.  I was quite excited to see one after only seeing them on TV for years.

I was even more excited I could once again order pizza while at a shelter.  I looked forward to dinner all day.  Pizza and Coke in the woods, what else could a hiker ask for?  Dessert that's what!
———-
Scatman
Get out there!
https://oneofsevenproject.com/wp-content/uploads/2019/01/19-04-e1306020404979-300x195.jpg
195
300
Craig Fowler
http://oneofsevenproject.com/wp-content/uploads/2017/01/1of7-logo-lockup-grey-1132x212-300x56.png
Craig Fowler
2001-05-24 09:00:44
2019-01-22 11:04:37
Appalachian Trail Day 86 - Rausch Gap - 501 Shelter