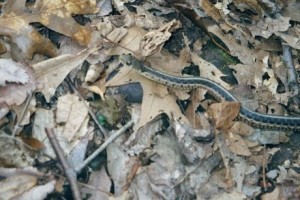 Appalachian Trail Day 52
Day 52, 04-20-01
19.6 miles, 635.4 AT  –  2,530 feet
Pearisburg – Pine Swamp Branch Shelter
9:15 AM 5:10 PM, Overcast
Today started with a big climb, then we just walked a ridge line all day.  At the end, we descended to the shelter.
We saw three deer making my total 15.  Not many birds out today.  We did have some great views of the valleys below.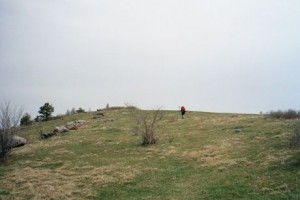 The big problem of the day were my shoes.  The low top hiking shoes I bought in November which were slightly too big are now much too small.  My feet are so swollen that the shoes don't fit.  My pinky toe through the middle toe are smashing into the end of my boots.  Today had to be the worst day of walking yet.  I still have 73 miles to go before I can get my other boots or buy a different pair.  Tomorrow I will try only wearing a sock liner instead of a sock.  Then I will removed the insoles and wear socks again.  If those don't work, I will cut the front part off my insoles, to give the toes more room.  Even though I had no idea my feet would swell so much, I still mentally beat myself up all day.  Today was the first day I couldn't ignore my physical discomfort.
Smokie and Bandit just got to camp.
Scatman 2011- It's too bad the movie Cast Away came out after my hike.  I would have cut the toes out of my shoes.  I think the reason I didn't think to do it was I was too worried about ruining a good pair of shoes.  What I was missing was they weren't "good" since they didn't fit.  They were no good to me in their current state.

It was a tough day of hiking.  I guess you could compare it to running with a blister where every step you feel it and can't ignore it.  I definitely took away from the day and any chance of me enjoying it.  The toughest part was knowing I had at least 3 more days of wearing them.  Not a great thing to look forward to each morning.
———-
Scatman
Get out there!
https://oneofsevenproject.com/wp-content/uploads/2019/01/13-02-300x200.jpg
200
300
Craig Fowler
http://oneofsevenproject.com/wp-content/uploads/2017/01/1of7-logo-lockup-grey-1132x212-300x56.png
Craig Fowler
2001-04-20 09:00:44
2019-01-24 15:36:20
Appalachian Trail Day 52 - Pearisburg - Pine Swamp Branch Shelter