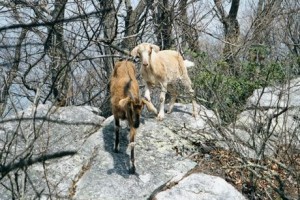 Appalachian Trail Day 54
Day 54,  04-22-01
12.4 miles, AT – 655   1,800 feet
Laurel Creek – Niday Shelter
8:15 AM 2 PM   75-80°
Today we cut the day short.  We were to do 21 miles but it was super hot and my feet hurt so I threw in the towel around 2 PM.  Agatha didn't mind at all.
We got some extra candy and I got two Cokes at a farm we passed.  Al found a dead Red-tail Hawk and took some tail feathers.  We missed it.  After the farm, we passed the Keffer Oak.  It's a large white oak, which measures 18.3 feet around.  This thing was huge.  Its estimated to be over 300 years old.  It was easily over 100 feet tall.  Most of its limbs were bigger around than me.
We also saw 3 goats.  Two had horns.  They ran up to me and licked the sweat off my legs.  Agatha missed them.  For some reason they weren't on the ridge when she passed.  One was black/white, one was dark brown and the other was light brown without horns.  When they saw me, they ran to lick me.  It was amazing.
We had great views most of the day of a ridge to our East but the rocks and sun were unbearable. Two Army helicopters flew by us.  We were higher than them!
Today I walked with my insolessuperfeet in but with the tow area cut off.  I don't know if it was better or not.  Enough about them I have 2-5 more days to wear them.
When I got to camp I fell asleep on the floor of the shelter.  Once up, I went down to the creek to bath.  It felt soooooooo good, even without soap.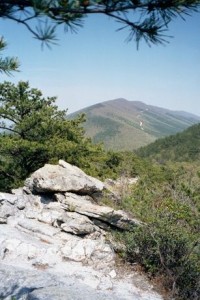 Tonight for the second night its Al, John Kalhoun, Agatha and I.  The boys didn't make it in last night.
I almost forgot.  I saw some small brown lizards today.  They were brown with a blue metallic belly.
Bill and Mortus (from Boston) just showed up.
Scatman 2011- The highlights of this day were the goats, Keffer Oak, and the views.  The goats were nuts for our salty sweat.  I was afraid they'd nip me so I didn't let them lick me too much.  They were persistent that's for sure.  Days later Al would try to tell us he got naked and let them lick him clean.  He almost had a few of us but I had learned he was a joker so I didn't believe him one bit.

The Keffer Oak was surely impressive.  I had never seen a tree so large.  I felt quite small and young next to it.  The limbs were the size of some average trees.

The ridges today were incredible.  We just hiked along them and they seemed to go on and on.  The views from them were great and it was nice to be out in the open despite the heat.
———-
Scatman
Get out there!
https://oneofsevenproject.com/wp-content/uploads/2019/01/13-10-300x200.jpg
200
300
Craig Fowler
http://oneofsevenproject.com/wp-content/uploads/2017/01/1of7-logo-lockup-grey-1132x212-300x56.png
Craig Fowler
2001-04-22 09:00:30
2019-01-24 15:32:58
Appalachian Trail Day 54 - Laurel Creek - Niday Shelter