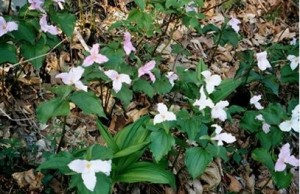 Appalachian Trail Day 63
Day 63, 05-01-01
4.2 miles, AT  –  803.3
North Fork of Piney River – Montebello Dutch Haus B&B
I got cold about 3 AM again last night.  I threw my raincoat over my legs.  We had a bunch of owls hooting away last night.  At least three Barred and one other.
Brown stayed the night and we got a hold of his owner.  A real Southern man.  Dip chewing, scruff, overalls type of man.
We hiked 4.2 miles stopping at the Seely-Woodworth Shelter and then onto Fish Hatchery Road.  Met a turkey hunter on the way down.  He was very knowledgeable on the subject.
We walked down to the general store and called Browns owners, shopped, and called the B&B.  Earl, the owner, drove down for us and our mail to give us a ride.  I have showered, done laundry, made calls, seen hummingbirds, and identified many of the wildflowers we've seen so far.  Heres the list:  Wood Vetch; Bulbous Buttercup; Large Flower Trillium; Cancer Root, Storksbill; Wild Geranium; Pink Lady Slippers; Wild Pink; Crested Dwarf Iris; and common Blue Violets.
We had lunch here and plan on dinner too.  We get breakfast as part of our stay.  After six we can go on line.  With only hiking 4.2 miles, Im feeling bored just wasting a day like this.  I saw three deer this morning (28).
Scatman 2011- I was amazed Brown stuck around.  I was sure he'd try and find his way home after we dozed off.  It was fun to fall asleep to a chorus of owls chatting away.  As I mentioned it was a short day and it was easy to get bored.  Once you've been hiking a while you get use to being on the move.  So when you're not hiking it just doesn't feel right.  You get used to the perpetual motion and crave it.  Sitting still because hard to do.
———-
Scatman
Get out there!
https://oneofsevenproject.com/wp-content/uploads/2019/01/15-22-e1303958053420-300x194.jpg
194
300
Craig Fowler
http://oneofsevenproject.com/wp-content/uploads/2017/01/1of7-logo-lockup-grey-1132x212-300x56.png
Craig Fowler
2001-05-01 09:00:01
2019-01-23 13:14:04
Appalachian Trail Day 63 - North Fork of Piney River - Montebello Dutch Haus B&B