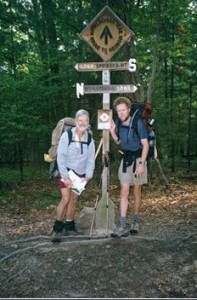 Appalachian Trail Day 82
Day 82, 05-20-01
Campsite – Hostel in Boiling Springs
18.5  miles, AT  –  1101.8  510 feet
7:30 AM 3:15 PM
The halfway point was about 100 yards from camp.  Lots of photos were taken.
I slept well without the fly on my tent.  We had critters near camp for part of the night.  Al and Vice showed up once again.  The whole group hiked mostly together throughout the day.  We had a break at 10 AM at which I peed on my shorts!
Close to lunch time we ran into a shady guy on the trail.  With this in mind, we opted for a hostel instead of camping outside of town (Boiling Springs).
We all went out to dinner and got pizza.  I checked my e-mail and looked at a cycling page to get updated on the scene in Europe.
The people here are wonderful.  We are pretty much sleeping in their living room.  Boiling Springs is a tiny town but pretty.  Lots of fishing and old buildings.
No views toady.  Mostly cloudy and lots of mist blowing in the air.  Hopefully the rain will be gone in the AM like the past few nights.
While at dinner, Vice put ketchup on his pizza!  It was the worst display of sacrilege Ive ever seen.
Scatman 2011- Not to take away from the nice family that took us in and let us sleep on their floor but since then I have come to realize the whole experience there ranks up there as one of the oddest.  At the time it was great but like they say, hind sight is 20/20.

The weird/creepy guy we met is one of maybe a half dozen people I've encounter in all my hiking that I got a bad vibe from.  I was not the only one who thought this guy was a bit off.  People ask me if I carry a gun and I want to laugh.  Unless you cover yourself in peanut butter and honey in bear country hiking in the woods is 100 times safer that being in a city.  Of course you have to use your head while hiking but a gun, seriously.
Scatman
Get out there!
https://oneofsevenproject.com/wp-content/uploads/2019/01/18-15-e1305867641781-197x300.jpg
300
197
Craig Fowler
http://oneofsevenproject.com/wp-content/uploads/2017/01/1of7-logo-lockup-grey-1132x212-300x56.png
Craig Fowler
2001-05-20 09:00:48
2019-01-22 11:12:40
Appalachian Trail Day 82 - Campsite - Boiling Springs