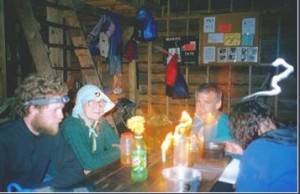 Appalachian Trail Day 84
Day 84, 05-22-01
Cove Mountain Shelter – Peters Mountain Shelter
15.4  miles, AT  –  1138.8
7:05 AM 6:30 PM, Day 16 Rain
What a wet night!  I woke up sweaty and hot.  Then I touched my bag and it was all damp.  You could see the moisture in the air.
I woke up to wet clothes and a 4 mile walk to town.  In town I dried everything I could, even my shoes but they didn't dry.  Next it was off for strombolis.  Al showed up once again.  He's around every corner.  It saddens me to think I wont see him again possibly.  He will be taking days off throughout PA.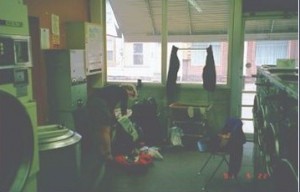 We didn't leave town till almost 2:15 PM.  The rocks are staring to get bad.  I switched back to my heavy boots but my feet still hurt.  Stepping on all those uneven objects wears your feet down.
Very nice shelter but the water is way down the hill.  Tangent and I sat at a road crossing for 10-15 minutes just watching cars.  Its amazing what keeps my attention out here.  More rain again today but not much.  We should be drier tonight.
Scatman 2011- This was the type of day that you were never so happy to see a laundry mat.  Not because you stunk but because of all the wet stuff you had.  I'd rather stink than have wet clothes and gear.  Being wet is in my book the worst thing ever while hiking.  I can deal with a lot of things while hiking but endless days of rain and being wet wears me down.  Though water gives you life it seems to slowly take it away if you're always wet on the trail.
———-
Scatman
Get out there!
https://oneofsevenproject.com/wp-content/uploads/2019/01/18-23-e1306019866254-300x194.jpg
194
300
Craig Fowler
http://oneofsevenproject.com/wp-content/uploads/2017/01/1of7-logo-lockup-grey-1132x212-300x56.png
Craig Fowler
2001-05-22 09:00:29
2019-01-22 11:08:17
Appalachian Trail Day 84 - Cove Mountain Shelter - Peters Mountain Shelter