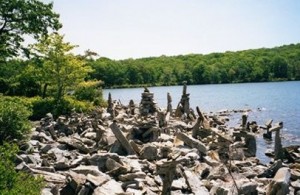 Appalachian Trail Day 93
Day 93, 05-31-01
Delaware Water Gap – Blue Mountain Lakes Road
17.8 miles, AT  –  1291.5  11350 Feet
9:10 AM 4:30 PM
Pete was a little late getting up.  I packed in no time and we hit the road.  No Starbucks for me, the weren't open at 4:45 AM.  Pete dropped me off around 6 something.  I then went to breakfast with Tangent, Moonshower, and Barbara.  Mukwa showed up later.
The Post Office didn't open till 8:30 AM so I took a nap.  A bunch of people hit the trail while I waited.
When I got to Sunfish Pond, the first glacial pond, Tangent, Hatman, Happyfeet, Moonshower, Anduleia & Mukwa were building rock towers on the shore.  I built one that was about 7 feet high when it was done it fell over 5 minutes later.  I did a few imitations of Rambo and Val Kilmer with my shirt off.  They all got a kick out of it.  It was then off to a rocky mountaintop for lunch.  We got snacks from a bunch of old guys.  They said we missed two bald eagles flirting with each other by a half-hour.  After that I went on alone and took a nap, while waiting for them to show up.  Almost everyone from Leroy Smith is here.  We're all tented in a field.  Anduleia just found a tick, so Im going to check myself.  EZ-Glider found out he's got Lyme disease.  He's on Meds.
My feet still hurt but yesterday helped a lot.
I almost forgot about my run in with momma turkey.  There was six of us in a line.  The first three blew right by a bunch of tiny baby turkeys.  Hatman & Happyfeet stopped and said look baby ducks?  while looking at me the bird guy.  I started to follow the chicks and all of a sudden momma turkey pops up and comes running right at me!  She scared the crap out of me.  I never saw her.  I called to Hatman for help as I backed up quickly.  She backed down when I was far enough away.  To say the least, it was a first.
Scatman 2011- It was good to be with the group again even though I had to wait for the post office.  I didn't think I'd be camping with the big group again but I did.  The ticks would only get worse from here on out.  Lucky for me I had HappyFeet to check my back.  We were like monkeys checking each other for buys at camp.  The hiking itself was enjoyable with less rocks and easier walking.
———-
Scatman
Get out there!
https://oneofsevenproject.com/wp-content/uploads/2019/01/20-12-e1306798391817-300x195.jpg
195
300
Craig Fowler
http://oneofsevenproject.com/wp-content/uploads/2017/01/1of7-logo-lockup-grey-1132x212-300x56.png
Craig Fowler
2001-05-31 09:00:16
2019-01-22 10:44:33
Appalachian Trail Day 93 - DWG - Blue Mountain Lakes Road