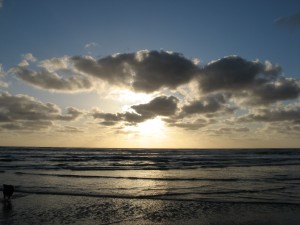 PCT 2007 Day 7
Rest Day #1  / 4-1-07
Manzanita
0 miles; 294.3 total miles
Partly sunny; 50
I did actually ride about a 1/2 mile south on the route when going from Manzanita to Nehalem Bay State Park.
Today we got up around 8 AM since the dogs heard something or someone and they wouldn't go back to sleep.
We went to a donut/coffee shop and had breakfast. Of course we took it to the beach. Once again the dogs were in heaven. We went back to checkout and brought my stuff over to the campground just down the road.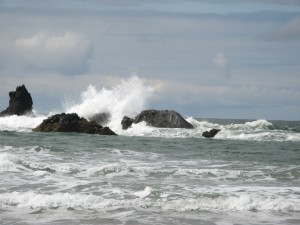 After that we headed north to Cannon beach. On the way we saw another cyclist who was touring! They didn't stay here tonight so maybe I will cross paths with them tomorrow.
At Cannon Beach we walked on the beach and saw "Haystack", a rock formation out in the water. There were gulls nesting all over it. Lunch at a pub was next, followed by the drive back. On the way we stopped so Sam could try to see a whale. She did!
We went back to the campground to see about getting a yurt (a tent like dwelling) but had no luck. Sam stuck around while I did my laundry, which was great since I was having a hard time with the thought of her leaving. The thought I wouldn't see her again until September hit home and it was tough. I already said it's lonely out here; but it really is! I look forward to the PCT when I might meet a hiking partner(s). I fear my chances out here are slim.
We went back to the campground where I tried to decide where to stay. $4 to camp alone in the hiker/biker section or $16 to have a regular spot near others. We did 3 laps of the grounds before I decided to save my money and spend the night alone.
I unloaded and then Sam left. It was an emotional parting and I'm still feeling its effects.
I set up camp, cooked and started to have a fire but a rain shower came through and spoiled it. It didn't last long but now the bench is all wet and I don't feel like having a wet butt.
Tomorrow should be another short day to Cape Lookout State Park.
Scatman
Get out there!
You can check out my Appalachian Trail or Continental Divide Trail journals too!
https://oneofsevenproject.com/wp-content/uploads/2019/01/IMG_1508-300x225.jpg
225
300
Craig Fowler
http://oneofsevenproject.com/wp-content/uploads/2017/01/1of7-logo-lockup-grey-1132x212-300x56.png
Craig Fowler
2007-04-01 22:38:14
2019-01-29 20:59:59
PCT 2007 Day 7 - Manzanita