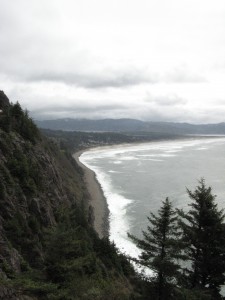 PCT 2007 Day 6
Stage 6 / 3-31-07
Fort Stevens, OR – Manzanita, OR
46.9 miles; 298.3 total miles 11.2 mph avg
Rain in AM, Sunny in PM
I'm not sure what happened to the mileage but I know it's off. I will have to figure it out some how. I finished stage 6 and it was in the low 40's for distance and the odometer was at 298 miles. So now it's now at 312 and says I road 61 miles on Saturday. Who knows?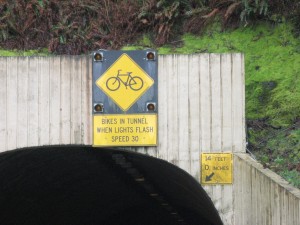 I got up to rain from the trees falling on my tent. It was still misty out during meal prep and while packing up. I rolled out for the start of the day's stage thinking I had underdressed knowing I'd get hot soon enough. I was still overdressed and changed gloves twice, finally ending up with no gloves to noon on the final two cat. 2 climbs at the end of the day. I also had rolled up my rain pants so it looked like I was wearing shorts. It was still cold out and I got really chilled on the descents.
The stage was easy enough but had 3 climbs and one tunnel. As a biker you push a button on the side of the road and a sign above the tunnel starts flashing to tell the cars you're in the tunnel. Pretty cool!
At the top of the last climb, I stopped to watch whales. I saw 4 gray whales. One was a baby and he jumped out of the water like a dolphin 4 times. It was really neat to see. Sam and the dogs showed up at the viewing station but we headed down since it was really chilly. I told her I was there but she hadn't heard me say so, but it was a very welcomed sight to see her.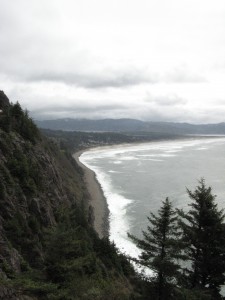 I road the last stretch into town and met Sam at the Inn. I showered and then we went to walk on the beach and have lunch. The dogs loved it. Peevey, Sam's new puppy, had never been so she was in heaven. We then drove south a bit and went for another walk on a jetty. I had to carry Peevey across some rocks we used to hop over some water. She was so afraid of the water.
We went back and cleaned up some just to go to the beach again to catch the sunset and order pizza for dinner. The sunset was better than the pizza.
We all went to bed early but the key was trying to keep the sand from the dogs out of the bed. There's no keeping them off the bed. To say the least it was an okay night of sleep.
Scatman
Get out there!
You can check out my Appalachian Trail or Continental Divide Trail journals too!
https://oneofsevenproject.com/wp-content/uploads/2019/01/IMG_1490-225x300.jpg
300
225
Craig Fowler
http://oneofsevenproject.com/wp-content/uploads/2017/01/1of7-logo-lockup-grey-1132x212-300x56.png
Craig Fowler
2007-03-31 22:37:00
2019-01-29 21:00:26
PCT 2007 Day 6 - Fort Stevens, OR - Manzanita, OR