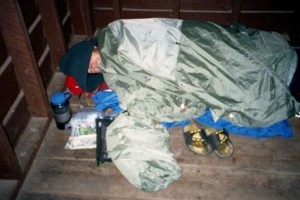 Appalachian Trail Day 58
Day 58,  04-26-01
18.5 miles, AT  –  727.8 1,920 feet
Daleville – Bobblets Gap Shelter
65-70°
Al was up early again, just like clockwork.  He also snored his loudest last night.  I had to get up and find my earplugs.  Al is one of the nicest people on the trail.  Bill Eggbeer, the section hiker, has been great too.  With Agatha now gone, these two are my companions.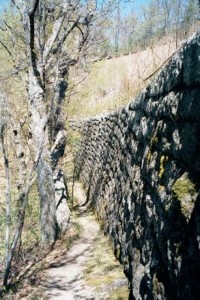 I saw a deer (23) in the early AM.  Oops!  For breakfast I had bowls of Frosted Flakes, orange juice, apple juice, chocolate chip muffin, and a cinnamon roll.  I also got to read a bit of the USA Today.
I caught Bill soon after leaving Troutville, only after forgetting to buy film and having to turn around.  We met up with Al at Fullhardt Knob Shelter and snacked.  We all met up again at Wilson Creek Shelter for lunch.  From there to Black Horse Gap was nice walking but after that it was hell.  I was sore.  I passed the turn off for the shelter since it was taking me so long to get there.  My feet were great but tired as usual.
Tonight I burned my dinner.  Al has given me three (3) cloves of garlic to add to my meals.  Once I scrubbed my pot, I read for a bit and now it's off to bed for me reading.  Bedtime is usually around 8PM.
Scatman 2011- You'd think with the greater part of a day spent in town one wouldn't forget to buy film, especially when you just sent the used film home.  Like I said before, the mind doesn't get used much out there and it goes soft.  Luckily the body get's hard.  Unfortunately for me a hard body meant muscle not fat.  I would need fat on this night.  I sent home my down sleeping bag and was going with a thin fleece bag.  Not my smartest move on the trail.
———-
Scatman
Get out there!
https://oneofsevenproject.com/wp-content/uploads/2019/01/14-18-300x200.jpg
200
300
Craig Fowler
http://oneofsevenproject.com/wp-content/uploads/2017/01/1of7-logo-lockup-grey-1132x212-300x56.png
Craig Fowler
2001-04-26 09:00:45
2019-01-23 13:24:18
Appalachian Trail Day 58 - Daleville - Bobblets Gap Shelter