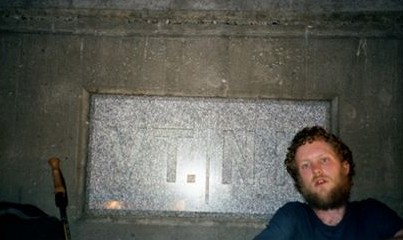 Appalachian Trail Day 120
Day 120, 06-27-01
Winthuri – Hanover, N.H.
26.3 miles, AT  –  1726.2
Slept badly.  My hips hurt.  I was second out of camp but soon passed Arlo.  He would catch me later.  On my way up Dana Hill, I heard what I thought was a turkey.  It turned out to be a large owl.  Possibly a Great Horned.  There were two of them.  Everyone but Speedy caught up and got to see them.
It wasn't until lunch that we all got together.  Lunch was at Tristle Shelter.  As I laid on my back with my feet up on the wall, I made fart noises with my back. Crash thought it was real.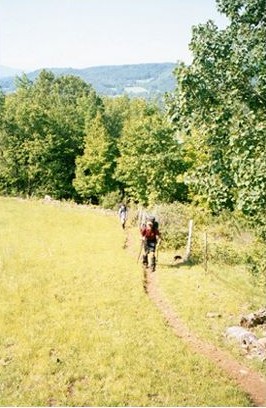 After lunch in West Hartford, Vt., I stopped to swim in the White River.  I brought a Coke and said to myself I would leave if no one showed up, but Arlo did.  We stuck around until everyone showed up.  We all joined the local kids by jumping off the bridge into the river.  The water was great.
Everyone but me and Burn, who wanted to camp alone for some quiet time, took a ride in a pickup truck to Hanover.  I pushed on and finished my 26.3 mile day.  I left at 6-ish and got to Hanover around 9:30 PM.  I was given two bananas by some locals of West Hartford as I left town.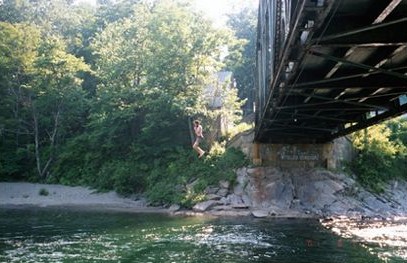 When I got to Happy Hill Cabin, there was no water and I was almost out.  Someone had left grapes for us hikers.  They were the best grapes every.  I topped them off with a Pop Tart and some GORP.  I still had 6 miles to go, so I pushed on.  Mind you I have been battling some chaffing in a very sensitive area all day.  It was the worst after I stopped.  They were a very, very tough 6 miles.  I didn't find water until a 1/16 of a mile from the road in Norwich, VT.  I saw two deer (73).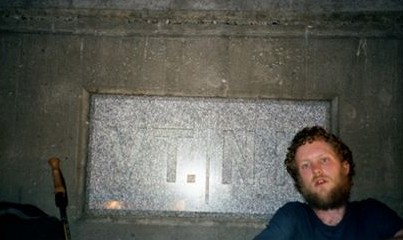 The AT dumps onto Elm Street in Norwich.  The houses were amazing.  All 1700-1800s salt boxes of brick.  When I got to the state line (CT River), it was dark.  I set my camera up on the guardrail and hopped back and forth while taking my picture. It turns out the kids swam across the line!
I found the gang at a school run lounge. Crash got up and played three of her own songs on the guitar.  She is good!  I ate some well-deserved food and then we headed to Speedy's friends place. Being college kids, we were forced to set up our tents in the backyard to get some sleep.  They were playing drinking games. We all showered and hung out till around midnight.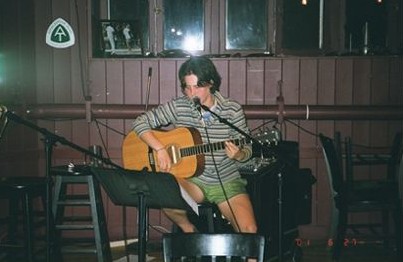 Sometime later, I was awoke to my tent shaking.  It was like something out of Blair Witch.  The girls, that live in the section of the houses behind Speedy's friend, came home dunk and thought it would be funny.  When they came near the tent the second time, I said :Alright who wants to get their ass kicked first?"  The two girls turned on a dime and ran screaming back to the house.  Once I fell back to sleep, I didn't wake again.
Scatman 2011- This day hurt.  Today's term is "Three Poling".  What is "Three Poling" you ask.  Well most hikers use hiking poles.  So if you count your legs as poles you have four of them.  Some times you have to free up one of your hands so you hold both poles in one hand.  With "Three Poling" you use your free hand to hold your balls because they're so chafed it hurts to walk.  This is "Three Poling".  I can't tell you how bad my boys hurt.  I could have used some Fresh Balls.
———-
Scatman
Get out there!
https://oneofsevenproject.com/wp-content/uploads/2019/01/26-19-e1308975912999.jpg
240
403
Craig Fowler
http://oneofsevenproject.com/wp-content/uploads/2017/01/1of7-logo-lockup-grey-1132x212-300x56.png
Craig Fowler
2001-06-27 09:00:10
2019-01-19 15:40:20
Appalachian Trail Day 120 - Winthuri Shelter - Hanover, N.H.