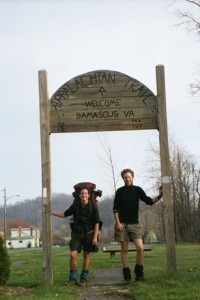 Appalachian Trail Day 39
04-07-01, Day 39
10 miles, AT  –  455.1
Abingdon Gap Shelter – Damascus
After I wrote last night, a black and white pussycat came into camp (skunk).  He ate dropped scraps and then went behind the shelter.  Later he came back and headed under the sleeping platform.  He ate trash for hours.  I awoke at 2-3 AM and he was still under us.  As I wrote a warning in the journal for the others behind me, I looked to my left to see Mr. Skunk hunkering around the side of the shelter.
Agatha and I hit trail at 5:45 AM to reach the post office in time.  Along the way, we hit the TN/VA line at 7:45 AM EST.  Three states down, eleven to go!
When we got to town, we went to the outfitter, post office, hostel and had pizza for lunch.  Most of the day I goofed off.  Then a former hiker and a current hiker came by and invited us to dinner.  This hikers name is Baltimore Jack.  He's starting his sixth consecutive thru-hike.  He cooked us the fattest meal.  Salad, garlic bread, chips/salsa, peas, spaghetti/sauce (meat or plain), steak, catfish, chicken and Parmesan, ice cream and cheesecakes.  Plus Bruce Springsteen was live on HBO.  It was great.  Jack cooked it in a diner of a hiker Mountain Man.  Mountain Man bought the place after hiking through town.  It's not open to the public yet either.  There were construction supplies all over.  All that mattered was the kitchen worked!  He cooked breakfast too.  Sausage, eggs, hash browns, and his buddy, a Trail Angel, gave us bananas, oranges, Stella Dora sticks, and cheese and crackers.  He needed to make room to fit Citrus in his little car.
I didn't go to sleep until 12:30 AM.  Jack and Bag of Tricks (Train Angel) told us funny stories for hours.  One of my best nights yet.  Photon showed up late and got leftovers.  Two plates of salad, and one plate of pasta.  Then Raven, Strider, and Broken Down Palace came in real late from a 33-mile day and Jack hit the grill again.  Jack was great!! No one went away hungry.
Scatman 2011- This was a great day.  I didn't put many miles in but I met so many cool people and got a lot done.  Damascus was a gathering of many thru-hikers.  Because I spent a zero day there and the good part of another day many behind me caught up and some in front of me were already there.

The meal by Baltimore Jack was amazing.  To this day it tops any meal I have been served on the trail, well at least in size.  The prime rib at the Drake House in Oregon was the best tasting.
———-
Scatman
Get out there!
https://oneofsevenproject.com/wp-content/uploads/2019/01/10-25-200x300.jpg
300
200
Craig Fowler
http://oneofsevenproject.com/wp-content/uploads/2017/01/1of7-logo-lockup-grey-1132x212-300x56.png
Craig Fowler
2001-04-07 09:00:20
2019-01-24 17:13:30
Appalachian Trail Day 39 - Abingdon Gap Shelter - Damascus