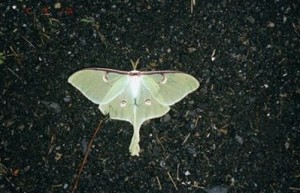 Appalachian Trail Day 96
Day 96, 06-03-01
Goldsmith Road – Wawayanda Shelter
19.8 miles, AT  –  1343.3   –  1200 Feet
7:00 AM 4:20 PM
Day 21 Rain
Wow!  What a terrible nights sleep.  Since I napped so much, I couldn't sleep.  Plus 3 out of 4 of the others were snoring and there were mosquitoes galore.  These beautiful shelters were too warm.  They were very warm inside.  Too warm!!
I got an early start but the group soon caught me.  I saw bear tracks in the mud so I didn't want to miss a chance to see him so I hiked slow.  No luck B/A saw two more today bring his total to 4.
Lunch was at Heaven Hill Farm.  It was a nursery/farm stand.  It was huge.  We pigged out, then hiked on another six miles to the shelter.  The whole gang is here again.  Tents all over and a full shelter.
We walked around a huge National Wildlife Preserve.  We saw eaten turtle eggs, a few ducks and I had a Luna moth drop onto my pack.  We put the moth in the shade since he was at a sensitive stage and the sunlight would kill him.  Lots of  bog bridges today.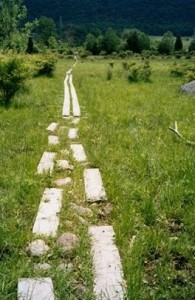 Theres supposed to be a bear who visits the shelter.  I hope all the people don't scare him away.
Scatman 2011- So remember yesterday when I thought those shelters were so sweet.  Not so much.  Nice to look at but terrible to sleep in.  No ventilation and no bug protection, not that shelters normally do but still.  The hike itself is a mystery to me.  I don't even recall the farm stand.  Maybe I do but I'm confusing it with another, I'm not sure.  I really wanted to see a bear and was bummed BA already saw 4.
———-
Scatman
Get out there!
https://oneofsevenproject.com/wp-content/uploads/2019/01/21-02-e1306988913282-300x193.jpg
193
300
Craig Fowler
http://oneofsevenproject.com/wp-content/uploads/2017/01/1of7-logo-lockup-grey-1132x212-300x56.png
Craig Fowler
2001-06-03 09:00:01
2019-01-20 12:42:54
Appalachian Trail Day 96 - Goldsmith Road - Wawayanda Shelter