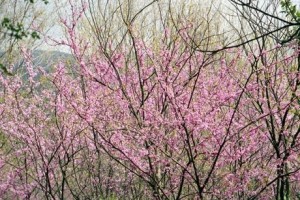 Appalachian Trail Day 50
Day 50,  04-18-01
7.8 miles. AT  – 616.4
Docs Knob Shelter – Pearisburg, VA
22° 8 AM
Last night the snow blew in from time to time.  I slept well despite the cold.  My boots were frozen solid again.  I was trying my hardest to get them on.  It took me about ten minutes to get them on!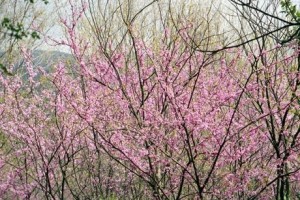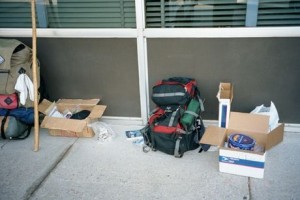 The hike into town wasn't bad except for one climb.  We had a great view of the valley below.  My package from home wasn't at the post office again. I had pizza and tons of junk food as usual in town.  Tonight its Smokie, Bandit, Stubster, Agatha, and me in a motel (The Rendezvous Motel).  I'm hoping my package is at the post office tomorrow.  If not, I will go to the Food Lion and shop.  We plan to hike 6 or 8 miles tomorrow.
Right now we're watching Detroit and LA in the NHL playoffs.
Scatman 2011- Wow, a short day!  It appears I had a lot of short days on the AT compared to the PCT.  But that is why you don't compare the two.  They are completely different beast within themselves.

Pizza in town was a AYCE (All You Can Eat) buffet.  Agatha and I went to town.  The whole not getting my package thing was getting old.  It's the worst feeling to get to town expecting your package to be there and then to have to completely change gears and rethink your whole meal plan.  You also have to re-plan your time spent in town.  If you're with a group you have extra pressure to get more done now so you can stay with them.  Never a good time.

As you can see from the flowering tree above I went from 22 degrees at 8 am and a long cold night to a valley that was warm and in full bloom.
———-
Scatman
Get out there!
https://oneofsevenproject.com/wp-content/uploads/2019/01/12-19-300x200.jpg
200
300
Craig Fowler
http://oneofsevenproject.com/wp-content/uploads/2017/01/1of7-logo-lockup-grey-1132x212-300x56.png
Craig Fowler
2001-04-18 09:00:38
2019-01-24 15:39:05
Appalachian Trail Day 50 - Doc's Knob Shelter - Pearisburg, VA