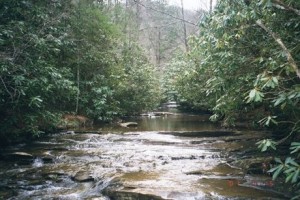 Appalachian Trail Day 47
Day 47  04-15-01
14.9 miles, AT  –  567.6  2,450 feet
Chestnut Knob – Campsite VA 615
Day 12 Rain, 50-60°
Today started off cool and breezy.  We got rain around 1 PM for an hour or two.  We stopped for a break at VA 623 and met a couple from Colorado.  They come to the area twice a year to a huge furniture wholesaler convention.  They gave us water, dried apple slices, bananas and dried yams.  They were incredibly nice people.  I got their card but forgot to give them my web address.
We stopped again at Jenkins Shelter for a break.  An older sobo (southbounder) stopped for the night while we were there.  Little Wolf Creek was just great.  Rhoddies everywhere and we crossed the brook 12 times.  We are camped next to it now.  The road is right here too.  I hope no one messes with us.  Tonight its Stubster, Bandit, Smokie, Agatha and myself.  It's real windy.  I hope another storm isn't blowing in. My filter filter is really dirty.  I need a new filter ASAP.  It had made pumping water really slow.
When I went to put the bear bag rope up, Agatha said You'r going to sacrifice your sock?  You put a rock in a sock or bandana for weight.  Of course when I threw the sock up over the branch, it got caught on another branch.  Stubster just pulled on it real hard after I got the sock even more wrapped up trying to get it down.  All five of us have our food on one rope.   I hope it holds.
Scatman 2011- The couple I met from Colorado  who gave us the fruit  sold chandeliers made out elk antlers.  Some of the chandeliers go for $10,000.  Little Wolf Creek was amazing.  It was so lush and green.

By this time in the hike I was pretty well along and hiking was getting easier.  Easier in that I was used to the routine.  I didn't dreaded the pack so much and I had formed a rhythm.  By this point I learned little things like packing my pack the same way each day so in case you needed to find something in a rush you knew where it was.  I learned how much water I needed per mile and how to best balance my load.
———-
Scatman
Get out there!
https://oneofsevenproject.com/wp-content/uploads/2019/01/12-11-300x200.jpg
200
300
Craig Fowler
http://oneofsevenproject.com/wp-content/uploads/2017/01/1of7-logo-lockup-grey-1132x212-300x56.png
Craig Fowler
2001-04-15 09:00:58
2019-01-24 16:56:34
Appalachian Trial Day 47 - Chestnut Knob - Campsite VA 615