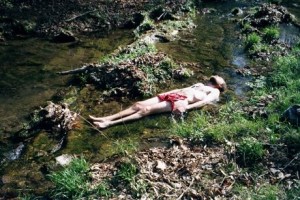 Appalachian Trail Day 55
Day 55, 04-23-01
17 ± miles, AT  – 684.9   1,800 feet
Niday Shelter – Stream Campsite
85-90°
Today was very HOT.  Lots of granite rock too.  Today was so warm the hiking was unbearable.  It felt like I was always sweating.  Constant drips into the eyes.
The climb up Brushy Mountain was a march.  Luckily there were lots of switchbacks, but it was till tough.  The views along the way great though.  We could see back at the ridge we had just came off of (Sinking Creek Mountain).  At the top of the climb there was a bench.  The benches were for a monument to recognize Audie Murphy.
We caught Soon After.  I also spooked another turkey.  We descended to Trout Creek where Agatha and I had snacks.  I had my second coke from the farm yesterday.
After the break, it was up, up, up.  We had to climb Dragons Tooth (3,030 feet).  The whole way up it was one false peak after another!  So frustrating.  The descent was steep.  Some spots had metal bars like a ladder put into the rocks.  My feet felt bad the whole way down.  Once down we removed the packs and Al & Agatha made the walk to a store while I watched the packs.  They brought me back Gatorade, breakfast snacks and a pint of Swiss Chocolate ice cream.  I ate the whole thing right there.  Al beat me.  He can down ice cream like no other.  A pair of Mallard Ducks came down the muddy stream we sat next to.
Once on our way, it was either camp at the first creek or second.  The first was only a mile or so, but was so nice looking we stayed.  We set up tents and then filtered water.  While I filtered, Al got into his birthday suit and washed up.  He lied down right on the rocks and let the water wash right over him.  So when I got into my birthday suit, I did the same and it was terrific.  (Check out the pictures.)
Agatha didn't have ice cream so she's eating and Al is reading the paper.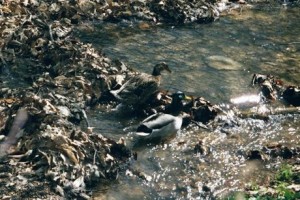 Dinner is over, yum.  I forgot to mention we saw a 4-5 foot long Black Snake or Rate Snake on our way up Dragons Tooth.  Trout Creek had trout in it too.  Small ones at that.  Also at the pond back before Chestnut Knob, there were Blue Gill.  There is a small rodent hanging on the tree in front of where I sit. (dead)
Scatman 2011- Very tough day of hiking.  The heat definitely slowed us down a lot.  The camp spot we picked was just what we needed.  Cooling off in the stream was heaven.  We couldn't have asked for a better end to a long hot day.

It's funny how many and how fast I could eat a pint of ice cream on the trail.  If I did that now I'd feel fat and should go out and riding 30+ miles to burn it off.  Al was amazing to watch eat ice cream.  He literally shoveled it down.  Most people would get brian freeze but not Al.
———-
Scatman
Get out there!
https://oneofsevenproject.com/wp-content/uploads/2019/01/13-21-300x200.jpg
200
300
Craig Fowler
http://oneofsevenproject.com/wp-content/uploads/2017/01/1of7-logo-lockup-grey-1132x212-300x56.png
Craig Fowler
2001-04-23 09:00:33
2019-01-24 15:31:04
Appalachian Trail Day 55 - Niday Shelter - Stream Campsite