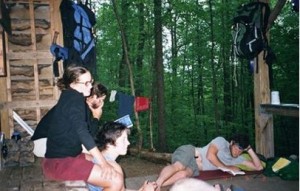 Appalachian Trail Day 65
Day 65, 05-03-01
Harpers Creek – Paul Wolfe Memorial Shelter
22.3 miles, AT  –  836.6  – 1,700 feet
6:20 AM 3:40 PM   85°
I slept well last night.  Not too cold.  Around 4 AM I put on my shirt and zipped up.  No pants or hat or socks.
I hit the trail at 6:20 AM.  Al and Bill blue blazed but it turned out to be not worth it.  They hiked 3.8 miles and I did 6 over a huge mountain and it only took me 5 minutes more than them.  We snacked at Maupin Field Shelter.
The closer I got to lunch, the more hungry I got.  We stopped for lunch but at the wrong spot.  We were suppose to be at Cedar Cliffs.  I left there and when I got to Dripping Rock, I removed my pack to douse my head and stepped on a bull frog.  Al arrived and pointed out there was a snake right in front of me.  It has a Lizard Frog in its mouth.  It backed into a hole but the poor frog couldn't fit.
There was a class of students studying flowers too.  All girls.  It was visual overload.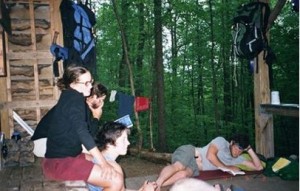 Once I got over Humpback Rocks, I got into an awesome groove.  I was flying along.  I made great time and got to the shelter by 3:40 PM.  I cleaned up, settled in and ate.  We have a full house too.  BA, Surefoot, Easyglider, Red. Tangent, Two Speed, Crash, Burn, Al, Bill and I.
I thought Crash and Burn were guys and it turns out they are girls right out of high school.  Burn has some funky glasses.
Scatman 2011- I remember Al and Bill being amazed that I did over two miles more than them and was only 5 minutes behind them.  It probably helped I was half Al's age and a little over half of Bill's.  Humpback Rocks was a scramble and it seemed so out of place.  It was just a pile of granite rocks that made up a climb.

It was around this time that I met the people I would hike with the rest of the time on the trail.  I didn't leave Al and Bill but there were a lot of first time encounters.
———-
Scatman
Get out there!
https://oneofsevenproject.com/wp-content/uploads/2019/01/15-26-e1304394317725-300x191.jpg
191
300
Craig Fowler
http://oneofsevenproject.com/wp-content/uploads/2017/01/1of7-logo-lockup-grey-1132x212-300x56.png
Craig Fowler
2001-05-03 09:00:54
2019-01-23 13:11:15
Appalachian Trail Day 65 - Harpers Creek - Paul Wolfe Memorial Shelter