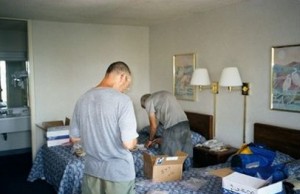 Appalachian Trail Day 66
Day 66, 05-04-01
Paul Wolfe – Inn at Afton, Rockfish Gap
5 miles, AT  –  842.6  – 1,850 feet
7:00 AM 8:30 PM
Got up early after a good nights sleep.  I did have to put on pants and my fleece hat.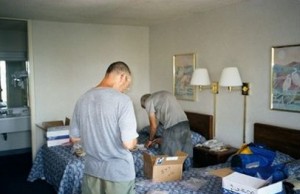 I covered the 5 miles in a half hour. (hour and a half that is -Scatman 2011)  We settled in at the Hotel.  Then Bill and I went to town.  We hit the post office, Pizza Hut, the grocery store, then split up.  I went to the library to check e-mail then headed out to the hotel.  I made calls, tried to nap, showered, then we had dinner.  What a waste of money.  The restaurant at the hotel was terrible and over priced.  After that we watched the Matrix.  My second time on the trail.
Scatman 2011- Rockfish Gap was on the large side compared to the other towns we had been too.  It was not as easy to get around.  The best part of this day is when we got to the room.  Al had the key to the room.  As we walked to the room he said he couldn't remember the exact room number.  It was either 112 or 113.  Of course the key didn't have the number.  We get to 112 and Al puts the key in the door and giggles it around and fiddles with the door handle.  Just when Bill and I think it's the wrong door, it opens!  Al opens the door and starts in only to stop with his head in the door and says, "OH MY GOD! I'm SO SORRY.  I must have the wrong room.  SO SORRY!"  and he pulls the door shut very fast.  Bill and I look at Al and just crack up.  In the middle of our laughing at him he reopens the door and walks right in.  He was messing with us from the time he pretended to forget the room number.  Bill and I felt so used.  Al really got us but after that we weren't so easily fooled.

The other interesting thing to mention was at the shelter we had a Whippoorwill.  A Whippoorwill is a bird.  Just as it got dark this Whippoorwill started to sing.  Apparently they like to hear themselves and I was told they will sit in front of a shelter and listen to their own call bounce back.  This bird went on for over an hour.  It's not a typical song bird.  It just says it's name over and over.  "WHIPPOORWILL, WHIPPOORWILL, WHIPPOORWILL, WHIPPOORWILL, WHIPPOORWILL"I got on to pee at one point and threw a rock in its direction.  Those awake laughed as I cursed it knowing I like birds.  It shut it up for maybe five minutes.  It was terrible!
———-
Scatman
Get out there!
https://oneofsevenproject.com/wp-content/uploads/2019/01/15-30-e1304394551968-300x194.jpg
194
300
Craig Fowler
http://oneofsevenproject.com/wp-content/uploads/2017/01/1of7-logo-lockup-grey-1132x212-300x56.png
Craig Fowler
2001-05-04 09:00:17
2019-01-23 13:09:28
Appalachian Trail Day 66 - Paul Wolfe - Rockfish Gap