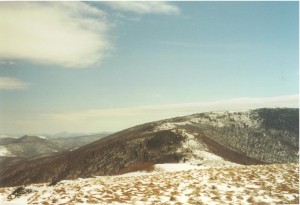 Appalachian Trail Day 34
04-02-01, Day 34
14.2 miles, AT  –  384.4  3,000 feet
Roan High Knob – Apple House Shelter
Partly cloud/sunny
WOW!  It was SOOOOO cold up there last night.  Tons of mice and some things larger too.  We stayed with Beatle.  I already said that didn't I.
The tent had ice all over the inside from our breath.  My bag had ice on it too, right where I was breathing.  My feet had ice too from touching the end of the tent (foot of bag).  It took forever to bring water to a boil.  We didn't get up till around 10 AM.  I put my Dromedary bag in my sleeping bag stuff sack because its waterproof.  There was so much condensation from the water, that when I pulled out the water bag, it was soaked.  Plus a ton of water poured out of the sleeping bag stuff sack, too.  Not a good move.  Our boots were frozen blocks of ice.  It was so hard getting them on.  Agatha kept breathing hot air into hers.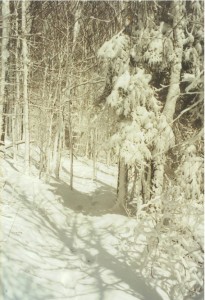 The mice were everywhere inside the shelter.  I finally got up and checked my pack and brought it closer.
Once on our way, the snow was deep and tough going.  We had to retie our boots after a mile since they loosened up. We went over two huge balds.  The views were great.  Real windy too. I saw so many deer and turkey tracks.  I lost count.  Along one ridge we crested the top and 8-10 wild turkeys were downhill from us and they took flight.  They crashed through the trees making all kinds of sounds.  I never saw turkeys fly.  It was awkward.
Tomorrow were going to attempt a 21 mile day.  I was pretty spent after today.  We'll have to see what happens.  The terrain should be getting easier now.
I started a fire to dry my boots and it started to rain!  Just my luck.  My back is hurting because my hip belt is too high.  My pack is riding too low.
Tonight were with Al (64) and Mongoose (27).  Al has done the PCT and hopes to canoe the Yukon River some day.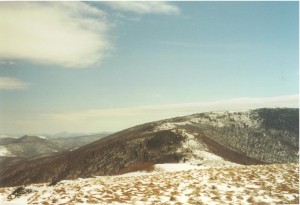 I have to go check the fire and spread it out.  The fire is good for the night.
About the views.  Todays views were picture book quality.  I mean they were incredible.  Small farms in valleys, huge balds wind swept with snow, snow covered Douglas Firs and far off ranges.
I led most all the way.  The drifts were shins to waist deep.  I post holed about 60% of the time.  Post holing is when you have to break through fresh snow.  As you walk your feet sink down in the snow making postholes.  It was terrible.  It drains your energy so fast.  It was really getting Agatha down too.  She was grumpy.  All in all it was a good day.  Nice weather but a long 14.2 miles.  We'll see what tomorrow brings.
Scatman 2011- As I've already pointed out it was cold as a witch's tit.  My boots were seriously so hard to put on it almost broke me before I started.  This is one place I'd love to go back to, but when it's warmer.  It truly was a special place with incredible views.

The amazing part of this day is I went from thigh deep snow and snow covered balds to lush green valleys and warm(er) temperatures with flowers.  An amazing change in only 14 miles and a few thousand feet of elevation.

The turkeys were quite funny.  Later someone told me they're like bowling balls with wings.  It stuck with me because it's so true.
———-
Scatman
Get out there!
https://oneofsevenproject.com/wp-content/uploads/2019/01/balds-300x205.jpg
205
300
Craig Fowler
http://oneofsevenproject.com/wp-content/uploads/2017/01/1of7-logo-lockup-grey-1132x212-300x56.png
Craig Fowler
2001-04-02 09:00:32
2019-01-24 17:39:21
Appalachian Trail Day 34 - Roan High Knob - Apple House Shelter