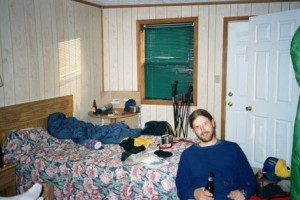 Appalachian Trail Day 51
Day 51 04-19-01
Zero day, AT – 616.4
Pearisburg
We went to the outfitter. I got a new cartridge for my Pur filter. Dill, Stubster, Bandit, Smokie and I went. It was 40 miles round trip and cost us $35.00. The guy was a terrible driver too. As usual with the rides I have got, I feared for my life.
Al, Dill, Agatha and I went to Bell Vista for dinner. I had chicken parmesan. On the way home, I got a pint of ice cream. Slept like a baby.
Scatman 2011- If you haven't noticed Zero Days and town days revolve around eating. The outfitter we went to was in Blacksburg. I look back now and wonder if the people who gave me rides were in fact bad drivers or was it the fact I wasn't used to being in a fast moving car. I'm thinking it was a little of both but more about the bad driving. I wonder if the people I gave a ride to REI on the PCT thought my driving was bad. I drove a Suburban full of hikers from Aqua Dolce to western LA during my 2007 PCT hike. It was my first time driving in two months.
———-
Scatman
Get out there!
https://oneofsevenproject.com/wp-content/uploads/2019/01/12-21-300x200.jpg
200
300
Craig Fowler
http://oneofsevenproject.com/wp-content/uploads/2017/01/1of7-logo-lockup-grey-1132x212-300x56.png
Craig Fowler
2001-04-19 09:00:16
2019-01-24 15:37:47
Appalachian Trail Day 51 - Pearisburg