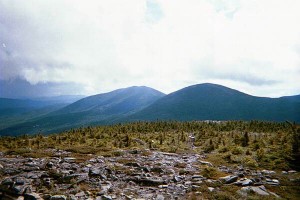 Appalachian Trail Day 137
Day 137, 07-14-01
Hall Mtn. – Bemis Mtn. Lean-to
12.8 miles, AT  – 1930.4
Day of Rain 31
Pinky woke me up at 7 AM. The SoBos in the lean-to left real early. They have the Fear. The Fear is any feeling that makes you feel like you must hike, usually fast. The girls were so loud and again they were storming the privy.
I left camp to only see Pinky when he passed me a bit down the trail. I couldn't wait for the seven girls at the privy. I didn't see anyone after I passed Pinky again. I did see SoBos and day hikers. It rained many times during the day. The trail is so wet and muddy.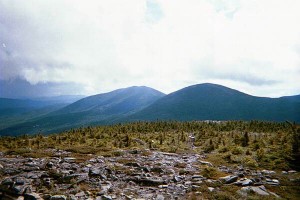 I saw a group of boys who were from the same camp as the girls. I never stopped for lunch. I just snacked along the way.  When I was only ten minutes from the shelter, I fell real hard on a rock face. One second I was standing, the next I was on my ass. I hit my left butt check, elbow and wrist. I laid there for a second before moving. Every step could be my last out here. The roots and rocks are so slippery. I can't wait for dry weather.
I was second to camp.  The roof leaks. We still packed plenty of us in here. Everyone but BA showed up. He went home but should be back before we're done. Captain and Speedy have announced they don't want to push it. They don't want to finish at Katahdin feeling like they want to be done. I feel the group is falling apart. It saddens me to think they might not be at the summit with me. I have only 16 days left. I'm not sure how I feel about finishing. I want to be done since Im so tired. My body is so tired and sore. I need some serious poolside sitting. Soon, very soon!
Scatman 2011- By now rain was becoming the norm as was muddy trails. He had heard Maine was the toughest state but man was it getting ridiculous. When I fell  it was completely without warning. I made the mistake of stepping on some black moss. Every hiker knows black moss is deadly. It's the slipperiest of them all.

As I mention above the group or tribe as we called ourselves was going dealing with some serious emotions.  BA had left the trail.  Captain and Speedy were unsure of the end and we were all very worn down and tired.  Everyday was a grind through mud and rain.  Waking up everyday and having to put on wet clothes and shoes takes a serious toll on the psyche.
———-
Scatman
Get out there!
https://oneofsevenproject.com/wp-content/uploads/2019/01/DX-19_2-300x200.jpg
200
300
Craig Fowler
http://oneofsevenproject.com/wp-content/uploads/2017/01/1of7-logo-lockup-grey-1132x212-300x56.png
Craig Fowler
2001-07-14 09:00:51
2019-11-29 22:10:39
Appalachian Trail Day 137 - Hall Mtn. - Bemis Mtn. Lean-to